A 27-year-old female resident of HCM City, who is deaf, lost her job when her new boss decided not to renew her contract, saying that he did not want to communicate with her in writing as her former supervisor had done.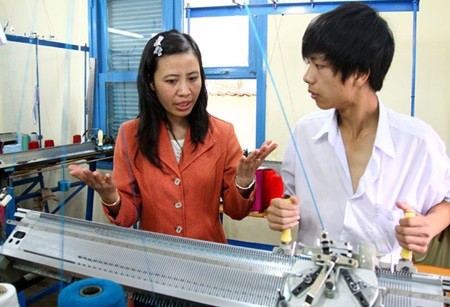 A deaf student follows his tutor to practise on a weaving machine at the Lam Dong Vocational School in the Central Highland Lam Dong Province.– VNA/VNS Photo Qui Trung
Before she was hired, the woman had completed a six-month graphic design course at the city's Van Lang University in 2012. She had applied for a number of jobs before landing the graphic design position but worked for only five months before the new boss sacked her.
"My new boss did not want to continue to employ me because he said he could not communicate with me," she said.
The woman, who now works as the deputy head of the city's Club for Deaf Culture and sometime teaches graphic design to club members, spoke at a conference on employment for people with disabilities held earlier this week at the Disability Research and Capacity Development Centre (DRD).
Like the 27-year-old, many other hearing-impaired people in the city also struggle to find work.
Also speaking at the conference, a 28-year-old woman from Go Vap District, a recent graduate of Fine Arts University, described her problems at school and looking for work.
"To follow my classmates, it was hard because I could not hear what my teachers were saying," she said.
After two months looking for a job after graduation, she found a position drawing pictures of clothes for a private company.
"The working time is 10 hours per day. My salary is paid based on the product, but it is lower than the salary for people without disabilities," she said.
Representatives of enterprises attending the conference conceded that they had not employed people with hearing impairments because they had been unaware of their capabilities.
Many of them said they would begin to pay more attention to such employees and hire people who have good reading and writing skills in English.
Luu Thi Anh Loan, DRD's acting head, said that many people with hearing impairments could not find jobs as companies were reluctant to employ them. The employers do not know sign language, and as a result, communication has to be done via writing.
Many hearing-impaired and deaf people in Viet Nam have not attended school, particularly in rural areas, and do not know how to read or write.
According to General Statistics Office, the country had more than one million people with a hearing impairment in 2009, accounting for nearly 13.5 per cent of the total number of people with disabilities.
Of these, nearly 200,000 people had attended school, with many completing primary school.
"It would be wonderful if companies have staff who know sign language," Loan said.
In the southern province of Dong Nai, a foreign garment company has an employee who is charge of personnel with hearing impairments.
Because the employee knows sign language, she serves as a "link" between the company's managers and employees with hearing impairments. When these employees have problems in their work, they talk to her and ask for help.
Many people of working age who have hearing loss or are deaf do not have broad knowledge in particular disciplines or professional skills, Loan said.
It is vital for job centres and vocational training schools to hire teachers and employees who can communicate with sign language, she added.