Thousands of locals joined provincial party and government officials yesterday at the grave of former President Ho Chi Minh's father Nguyen Sinh Sac to pay tribute to his 79th death anniversary.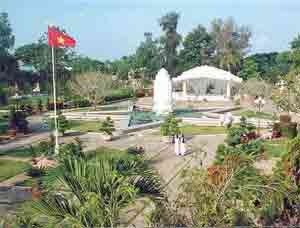 Mr. Nguyen Sinh Sac's grave in Dong Thap Province
At the ceremony in Cao Lanh City of Dong Thap Province in the Mekong Delta, provincial leaders spoke highly of Nguyen Sinh Sac's great contributions to the province.
Born in 1862 into a farming family in Quynh Luu District of Nghe An Province, Nguyen Sinh Sac passed the Court exam of Doctoral Laureate in 1901.
Then he worked as a civil mandarin for the Nguyen Dynasty for a short time, and moved to Hoa An Village of Dong Thap Province to work as a devoted herbal doctor.
As a true patriot, Nguyen Sinh Sac inspired the locals with his love of his country and his hatred for country's enemies. Many locals, including Pham Huu Lau and Luu Kim Phong, became brilliant leaders in the revolutionary movement against the French colonialists in Dong Thap thanks to Sac's enthusiasm.
Nguyen Sinh Sac passed away in 1929 in Dong Thap.