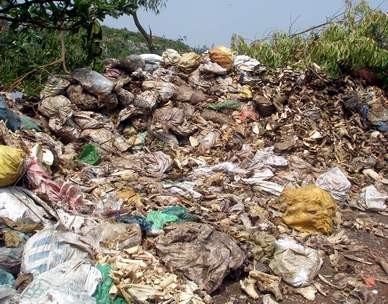 The dumping ground
A heated dispute has broken out amongst officials after the Department of Agriculture and Rural Development (DoARD) announced its decision to hand over 170 tons of animal bones to the Da Nang People's Committee.
On October 5, officials from the Department of Animal Health and PC36 carried out an inspection of a home workshop suspected of using old animal bones to produce goods in Da Nang's Lien Chieu District.
The investigation uncovered 170 tons of animal bones and rotting scraps at the Khanh Son dump site which gave off a nauseating stench. Inspectors seized the bones and suspended the business.
In an October 15 letter to the People's Committee and the Department of Environmental Police (PC36) and Bureau of Animal Health (BoAH) in the central province of Da Nang, DoARD's Director Tran Van Hao said the People's Committee should deal with the bones instead of BoAH. Director Hao said the bones should be considered waste material and thus handled by the Committee.
Speaking with Sai Gon Giai Phong, the chairman of the Lien Chieu District People's Committee said DoARD should hand the bones over to BoAH under a law issued April 29, 2004.
The decision would mean only a small penalty would be imposed on the workshop as the People's Committee cannot enforce strict punishments.
After the fallout, the head of BoAH, Cao Xuan Thai, told SGGP on October 6 that the workshop violated laws on making products from animal bones without documentation of origin.
Nguyen Dieu, who heads Da Nang's Department of Natural resources and Environment, said Khanh Son dumping ground often receives hundreds of tons of garbage including medical waste. Dieu said the 170 tons of bones collected from the workshop may also include human bones.
Officials are continuing their investigation.