Sugarcane farmers in the Mekong delta provinces are concerned about the time to process the next sugarcane crop, as price of sugar has fallen and a large inventory is still in stock.  Accordingly, the Vietnam Sugarcane and Sugar Association convened a meeting with 10 sugar companies in the region to discuss ways to ensure profits for both farmers and companies.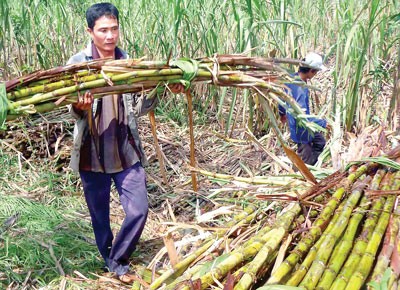 Sugar cane being harvested in the Mekong Delta (Photo: SGGP)
Farmers in Phung Hiep District in the Mekong delta province of Hau Giang are still angry at the loss of hundreds of hectares of sugarcane crop from severe flooding last year.
Having suffered from this devastating loss last year, the province spent VND153 billion ($7,3 million) on embankments and dykes to protect around 5,000 hectares of sugarcane.
However, these could not be completed for various reasons and as a result, thousands of hectares of sugarcane fields are now under threat of flooding.
Bui Thi Quy, chairman of Long My Phat Sugarcane Company, said they are ready for the new crop as scheduled, and 40,000 tons of sugarcane will be converted into sugar in August and more than 9,000 tons of sugarcane will be processed in September.
On the other hand, chairmen of other companies said it was not wise for processing to be done in August because then companies will have to buy premature sugarcane.
Moreover, Co Tri Dung, chairman of Soc Trang Sugar Corporation said sugar processing units still have stock of more than 250,000 tons of sugar which is difficult to move in the market although wholesale price of sugar has plunged from VND18,000 before Tet to VND16,500 now, but consumption rate is far too low.
In addition, 70,000 tons of sugar is going to be imported into the country as per WTO commitment, raising the total amount of sugar to more than 320,000 tons, which might take three months to consume, said Dung.
The Ministry of Agriculture and Rural Development has just ordered sugar processing units not to make sugar from premature sugarcane to avoid losses for farmers and even companies.
Nguyen Thanh Long, chairman of the Vietnam Sugarcane and Sugar Association, proposed to the Department of Agriculture and Rural Development to take samples and decide the time for the next crop by the end of July. The new crop should not be damaged by flooding and should also guarantee that farmers' receive profits.