Farmers in Binh Tan District in the Mekong delta province of Vinh Long which has the largest area for growing sweet potatoes for exporting, in the country are in despair since the price of farm produce has decreased.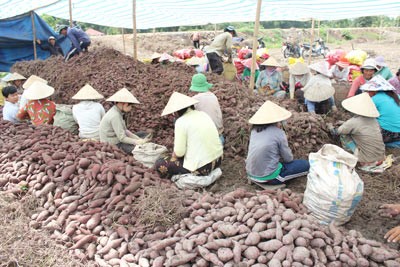 Farmers in the Mekong delta province of Vinh Long grow sweet potatoes year-round leading to exceeding supply; as a result, the price of farm produce decreases (PHoto: SGGP)
The area for growing the agricultural produce fluctuates from 8,000-10,000 hectares in the district. However, farmers worried because the price dropped drastically. Last time, sweet potatoes costed at VND600,000- VND800,000 (US$27.5- 36.6) per quintal ( 1 quintal = 60 kilogram) bringing profit to farmers. But now it fetched VND170,000-190,000 (US$ 7.79- 8.71) a quintal causing a big loss for them.

Along with decreased price, there was a false rumor that produce has not had good quality and traders refused buying the potatoes, leading to stagnant consumption.

Huynh Van Quan, deputy director of Cooperative Tan Thanh in Binh Tan District said that because China is the major market of this produce while the market is not stable. Recently a fewer Chinese traders bought the sweet potatoes while farmers have bumper crop; accordingly, the price is down because the supply exceeds the demand.

Vo Van Theo, head of the Department of Agriculture and Rural Development in Binh Tan District said that farmers grow sweet potatoes year-round but they don't treat soil well leading to diseases on the produce.
From now on, the authority will encourage farmers to grow one sweet potatoes crop in rainy season and plant rice and vegetables alternatively to improve soil and eliminate disease.
Along with this, related agencies will promote commercial deal with other partners to find new markets for the produce.