Minister of Defense, the high-ranking General Phung Quang Thanh will make an official visit to the US at the invitation of counterpart Robert Gates.
Defense cooperation between Vietnam and the US has expanded in recent years. The first American naval ship and 233 sailors visited HCM City in 2005. Since then, many US naval ships have landed in Vietnam and even participated in charity activities. Last June, the US vessel Heezen docked in the central city of Da Nang.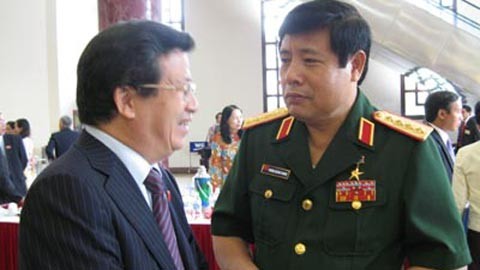 Defence Minister Phung Quang Thanh (R).
Following the visit to the US, Thanh will go to France at the invitation of French counterpart Herve Morin. The two visits will run from December 10 to 20.
Thanh is the second Vietnamese Defense Minister to visit the US.
Former Defense Minister Pham Van Tra went to the US in 2003 after the two countries normalized diplomatic relations.