At a meeting in Hanoi on Tuesday, the Vietnam Administration of Forestry stated that in the first six months of the year, a total of 2,029 cases of illegal logging and 1,145 cases of illegal exploitation of forest produce have been uncovered by related authorities.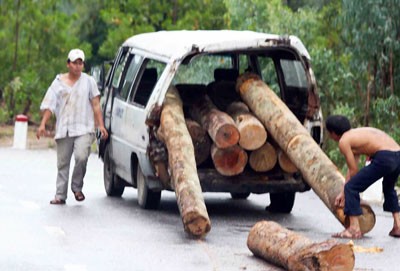 Illegal timber being transported in the central province of Quang Nam (Photo: SGGP)
Ha Cong Tuan, deputy head of the Vietnam Administration of Forestry, said during the first six months of the year there were also 12,430 cases of violation of forest protection regulations.
 
Illegal exploitation of forest produce was mainly concentrated in natural and primeval forests, which have several kinds of valuable trees. 
Mr. Tuan added that there were a number of ongoing litigation cases against officials as well in Quang Nam, Bac Giang, Dac Nong and Ca Mau Provinces.
Lumberjacks have ruthlessly laid siege in Phong Nha-Ke Bang National Park in Quang Binh Province, Yok Don National Park in Dak Lak Province and Ba Be National Park and Ky Hy Natural Reserve in Bac Kan Province.
In April, a group of 12 local people chopped down three Sua trees worth billions of dong in Phong Nha-Ke Bang National Park, and in retaliation hundreds of residents and illicit gangs entered to search or rob the logged Sua timber, causing much public disorder.
This case has now subsided, but illegal logging continues unabated and fearlessly, deforesting huge areas in Ba Be National Park of the valuable Nghien trees (Burretiodendron hsienmu variety).
According to the Forest Management Department of Bac Kan Province, at least 134 Nghien trees have been chopped down since late 2011.
Mr. Tuan said that the administration plans to implement a number of measures to prevent further illegal logging in the south-central region, the Central Highlands and the northeastern region.
However, the most important point is that relevant authorities must create conditions for residents to enjoy benefits from the forest, while making them responsible for the protection of the forests and forest produce.