Vietnam's natural forests have severely deteriorated in recent years. To protect forests at 17 national parks and 40 natural reserves on over the country, the State spends hundreds of billions of dong annually. However, forests are still in grave danger.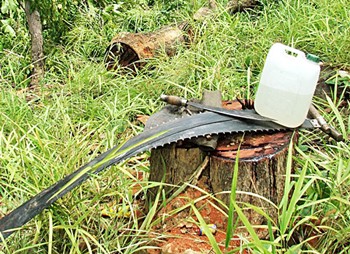 Deforestation tools left by lumberjacks who ran away (Photo: SGGP)
Sai Gon Giai Phong reporters recently toured around Yok Don National Park in Buon Don District of the Central Highlands province of Dak Kak, following Y Wen, a local expert on the park.
Upon entering area 458, which features the highest reserves of forest remaining in the Yok Don Park, reporters said they saw dozens of stumps of Narra Padauk, a valuable wood with good flavor and beautiful veins.
The Drang Phok Forest Management Station tasked officials to watch the area closely for illegal lumber operations.  When the last tree fell on June 4, lumberjacks finished slaughtering it within less than an hour, after officials left their mission for lunch, Y Wen told reporters.
Halfway up the mountain, Y Wen stopped walking, listened attentively and said that he could hear the sounds of power-saws on the other side of the mountain.
He rushed to take the reporters to the top of the mountain, where they witnessed many lumberjacks cutting down trees. The woodcutters ran away, leaving three "bleeding" stumps of Narra Padauk together with power-saws, carving tools, water cans and clothes.
Y Wen said that it took a week for officials to transport fallen timber to the station and if there were no security guards on duty, then lumberjacks would soon take the bounty away.
From Forest Management Station No.3, reporters were guided by another local man named Thanh. Along a red soil path leading to Dak Lau Dam, they saw dozens of valuable trees reduced to stumps.
At Phat Waterfall, a host of trees have been found cut down.
Travelling along the upper reaches of the Serepok River, reporters said they found tens of places where lumberjacks had gathered wood.
At night, groups of woodcutters noisily cut down and transport trees along the riverbanks, Thanh said. The precious lumber would be transported to the other side of the river and then carried to Buon Ma Thuot City.
According to the Yok Don National Park's Management Board's figures, since the beginning of the year, officials have uncovered and handled about 280 cases of deforestation and seized over 500 cubic meters of illegally downed trees.
However, an official from the park management board revealed that this was just a small number compared to total. The Yok Don Park alone sees 1,500 to 2,000 cubic meters of lumber cut down every month. At this rate, the national park will run out of all precious woods in next five to ten years, he said.

Hard to protect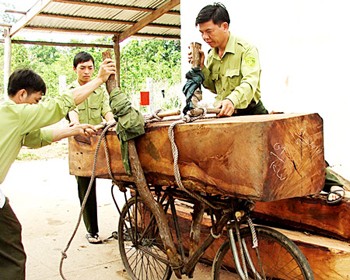 Precious lumber seized at Drang Phok forest management station in Dak Lak Province (Photo: SGGP)

In the northern central region, 94,000 hectare Pu Mat National Park in Nghe An Province has 11 forest management stations.
 A park official said that since the beginning of the year, about 100 cases of deforestation have been uncovered, revealing nearly 100 cubic meters of precious woods seized by lumberjacks and 100 hectares forest land occupied by local farmers.
Hoang Van Huu, another official, said that local residents have cut trees down for timber while the lumberjacks have transported the precious woods with rafts along Khe Thoi and Khe Luong streams to Con Cuong District.
It has been difficult for forest management officials to control the situation as a station usually has just two officials to watch over 5,000 hectares of forest, he said.
Reporters said they were amazed to find that only 100 meters from Huu's station is mountainous village of Phong, where about 80 of 120 rooftops are made from precious woods with plenty of excess lumber laying on floors and lining pathways around the houses.
At Phong Nha-Ke Bang National Park in Quang Binh Province, the deforestation has also been severe. Khe Cat on the Ho Chi Minh Highway, Trooc and Xuan Son Ferry Station are considered "hot spots" of illegal lumberjacking and transporting of precious woods.
The most sophisticated area is Bo Trach District, where hundreds of local residents inconsiderately invaded the forest to take away tens of cubic meters of precious woods in April.
Officials blame the heavy flow of transport trucks hauling illicitly obtained lumber, beginning in the late afternoon each day, on a lack of personnel tasked to watch over these vast areas.