Ha Cong Tuan, deputy head of the Forestry Department of the agriculture ministry, claims that deforestation in the Yok Don National Park is a matter of great concern.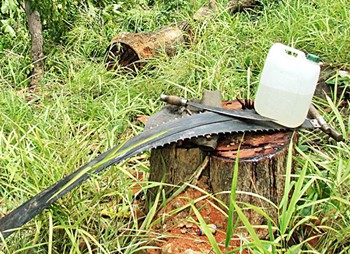 Deforestation tools left by lumberjacks who ran away (Photo: SGGP)
Lumberjacks have irresponsibly entered the park in the past and cleared the forests of many kinds of precious woods.
According to the statistics of the Yok Don National Park Management Station, over the first three months of 2011, ranger teams have uncovered and handed over to authorities hundreds of cases of deforestation and seized more than 500 cubic metres of illegally cut trees.
The park management board maintains that this amount is only a small percentage of the actual destruction in the forest, where many varieties of precious woods are facing exploitation in the natural forests.
The Department of Forestry has implemented many measures to protect forests in the Yok Don National Park. However, it has been difficult for forest management officials to control the situation as a station has just two officials to watch thousands of hectares of forest.
Yok Don National Park covers areas in the Central Highland provinces of Dak Lak and Dak Nong.