HCM CITY (VNS)  — With the coming of the annual floods, residents in the Mekong Delta are usually able to catch more fish and collect aquatic species like lotuses and lilies. This year has been no exception, with the floods bringing in fertile silt to paddy fields.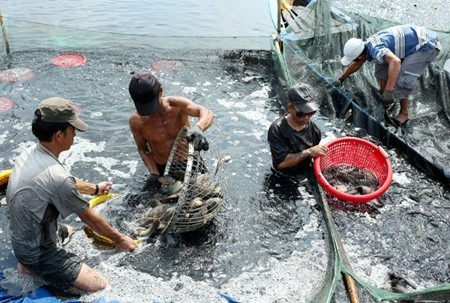 Farmers havest fish in southern Hau Giang Province. Mekong Delta farmers catch more fish thanks to the fertile silt brought by annual floods. – VNA/VNS Photo Duy Khuong
Since late last month, ca linh (tiny barb) has appeared in Hau and Tien rivers in upstream areas of An Giang and Dong Thap provinces.
Nguyen Van Huu, who has caught ca linh in Dong Thap's Hong Ngu District for more than 15 years, said: "It is only the beginning of the flooding season but the fish have appeared in large quantity."
"I am taking advantage and trying to catch more fish," said Huu, who has been catching more than 100 kilos of ca linh a day.
Ca linh is being purchased by traders at a price of VND140,000-150,000 (US$6.6 – 7.1) a kilo.
Le Tan Thu, a trader in Dong Thap's Thap Muoi District, said he bought three to four tonnes of ca linh, shrimp, crabs, snakes and turtles every day to sell them to HCM City.
In the Delta, villages that produce fishing nets and other fish-catching tools are busy meeting demand. The products are sold domestically and exported to Cambodia.
Xeo Sao Village, which produces bamboo traps for catching fish, crab and shrimp in Long Xuyen City in An Giang Province, has about 100 households making such bamboo traps.
Nguyen Van Tot, who makes bamboo traps in the village, said each household had about four to five people making bamboo traps, and each person could earn about VND80,000 - 100,000 ($3.8 – $4.8) a day.
Bamboo-trap makers in the village are also catching fish and other aquatic species when the floods inundate paddy fields.
In Thom Rom Village in Can Tho City's Thot Not District, more than 30 households are busy producing fish nets to sell locally and to Cambodia.
Cambodian prefers to buy fishing nets from Thom Rom Village because of their good quality and low price, say traders.
Similarly, the Long Hau boat-making village in Dong Thap Province's Lai Vung District is busy making various kinds of small boats with a price from VND1.2 -2 million ($57-95) a boat.
In years when the flood waters are high, Long Hau village builds about 20,000 boats a year and creates jobs for more than 1,000 local people.