A 50 meter long section of Highway 91 fell into the Hau River in the Mekong Delta Province of An Giang June 5. The new landslide section is 15 meters from the riverbank, extending to the tar-paved highway.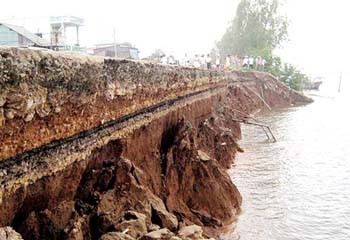 The most recently collapsed section of Highway 91 that sunk into the Hau River on June 5 (Photo: SGGP)
The collapsed section runs through Binh My commune of Chau Phu District. Highway 91 is the main road to travel from HCMC, Can Tho City, Kien Giang and Long Xuyen provinces to the southwest border districts An Giang, Chau Doc, Tinh Bien and An Phu.
The most worrisome problem the new landslide presents is that it is just 50 meters from the detour, which was built in middle April after a 70 meter section of the highway fell into the river and completely cut off the traffic in late March.
On the afternoon of June 5, representatives of relevant agencies including deputy head of the Directorate for Road of Vietnam Mai Van Duc and leaders of Road Management Zone 7 met to resolve the issue at Chau Phu District's People's Committee office.
The collapsed section is located at a narrow bend in the river and the landslide having been caused by three eddies,which will worsen the situation if they are not occluded quickly, according to Hoang Duc Hung from the Transport Engineering Design, the company has been hired to do surveys and seek solutions for the highway landslide.
At the end of the meeting, deputy head of An Giang Province People's Committee Pham Bien Cuong said that initial solution is to fill the eddies up, a very difficult task that requires strenuous steps to be taken urgently.

Related articles:
Construction of An Giang highway detour behind schedule
An Giang rushing to build detour around collapsed highway
Last of collapsed Highway 91 section falls into river
Mekong Delta highway section collapses into river