The Cửu Long (Mekong) Delta has great demand for advanced technologies to improve its agricultural production and farm and seafood processing for exports, and is seeking to tie up with countries with technological strengths, according to the Việt Nam Chamber of Commerce and Industry's Cần Thơ chapter.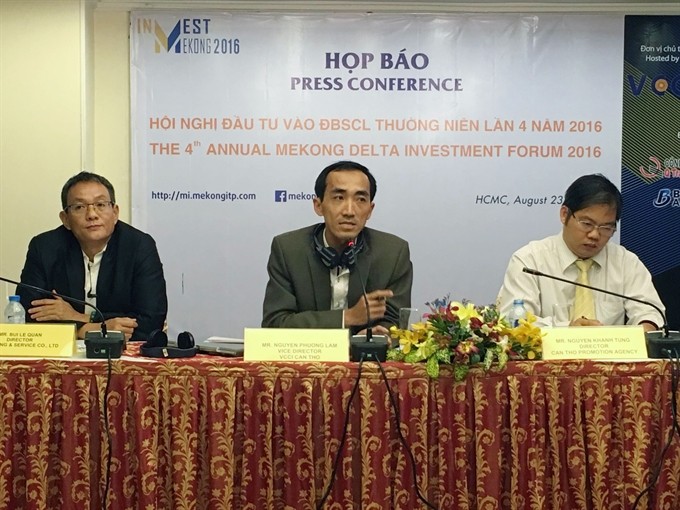 Nguyễn Phương Lam (C), deputy director of VCCI Cần Thơ, said the fourth annual Mekong Delta Investment Conference in Cần Thơ on November 11-12 would be a good platform for international companies to introduce agricultural technologies to the Delta market. — VNS Photo Xuân Hương
Speaking at a press conference in HCM City on Tuesday to introduce the fourth annual Mekong Delta Investment Conference, Nguyễn Phương Lam, deputy director of VCCI Cần Thơ, said with its favourable conditions for agriculture, the delta plays a very important role in the country's economy.
It produces 56 per cent of the country's rice, 57 per cent of the seafood and a large proportion of fruits, he said.
But the use of advanced technologies in agricultural production and processing to add value is not widespread, he admitted.
Besides, the rate of mechanisation in agriculture remains modest, he said.
These factors have resulted in low productivity, value addition and competitiveness, he said.
The region hopes to collaborate with foreign agri-tech companies to improve its competitiveness, he said.
Lam said VCCI Cần Thơ and the investment, trade and tourism promotion centres of 13 city and provinces in the region would organise the fourth annual Mekong Delta Investment Conference in Cần Thơ City on November 11-12 to enable international companies to showcase their technologies.
"We will encourage local companies to develop commercial co-operation with them or co-operate to make necessary technologies right in Việt Nam to exploit the great potential of the Mekong Delta market."
The fourth MekongInvest would be titled "Agricultural Mechanisation and Smart Technologies Development and Investment", he said.
Foreign investment increases
Nguyễn Khánh Tùng, director of the Cần Thơ Centre for Investment, Trade and Expo Promotion, told the conference that localities would bring lists of projects seeking investment and spell out their investment incentives and others.
More and more foreign investors are coming to the delta to explore business opportunities, he said.
So far this year 27 foreign delegations with 100 business executives have came to Cần Thơ and the delta's provinces, most of them from Japan, South Korea, Thailand and India, he said.
South Korean investors have expressed interest in high-tech agriculture, food and beverage processing, with some Korean companies expressing interest in making Cần Thơ a smart city, he said.
Japanese investors are keen on agriculture and tourism, he said.
Naoko Umezato, deputy general director of Tokyo-based Brainworks Asia Co Ltd, said the areas in which Japan can contribute to the delta are agriculture, fisheries, urban management, environmental management, information and communication technologies, and human resource development.
A lot of Japanese companies are interested in the delta and so her company would take them there in November, she said.
Lam said foreign direct investment in the region has increased sharply in recent years.
The region attracted 184 FDI projects in 2014 and the figure increased to 371 last year with a total investment of US$3.6 billion, he said.
In the first half of this year the region attracted $1.4 billion in 79 projects, or 12 per cent of the country's total FDI, he said.
With increasing interest among local and foreign businesses, MekongInvest would be an effective forum to boost investment and trade ties between delta firms and foreign partners, he said.