Trade villages in the Mekong Delta hasten to make products, like fishing hooks, nets and boats, to meet demands of local inhabitants during flood seasons that start around the end of July annually. However, they are apprehensive this year, as the flood season has yet to arrive.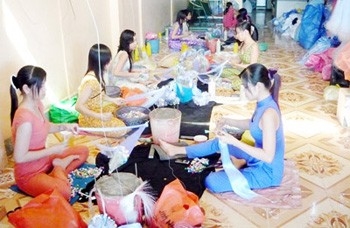 Workers make fishing nets in Thom Rom trade village, Can Tho City (Photo: SGGP)
At Muong Thi trade village, people are noisily producing fishing hooks in Long Xuyen town of An Giang Province. Muong Thi fishing hooks are well known throughout the delta and even in neighboring countries Cambodia and Laos, as they are sharp, strong and sold at low prices.
Along the nearly one kilometer village, most of people, from 10-year-old children to 70-year-old men, participate in the production of these famous fishing hooks.
Tran Thien Tam said that the Muong Thi has 186 households that specialize in producing fishing hooks, a tradition passed down from father to son. Each of them hires three to five workers and produces the hooks nearly year round, in order to serve the demands of flood season.
Minh Hai, Van Banh and Thanh Xuan production units have broadened their markets across the delta and central coastal provinces. Some Cambodian traders have ordered their products to resell to Malaysian fishermen.
A household with two people can produce an average of 250,000 hooks of various seizes per day during flood seasons. To those producing in large scales, the output is four to five folds higher.
Another trade village, Thom Rom, makes fishing nets in Can Tho City's Ninh Kieu District. People originating from the central province of Thua Thien-Hue established the village in 1976.
Ho Quy Thang, one of village's original residents, and who is now the owner of a net production unit, said that his unit hires 16 workers to make various kinds of nets to meet residents' demand during flood seasons.
His products are available to local residents at retail prices and are available for wholesale purchase to traders from other provinces in the delta.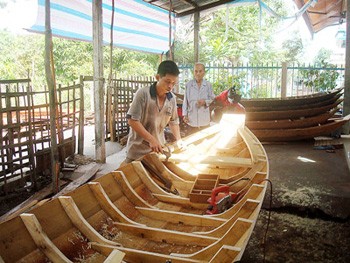 A worker builds a boat at Nam Quang trade village in Dong Thap Province (Photo: SGGP)
Coming next is Nam Quang, a famous boatbuilding village in Chau Thanh District of Hau Giang Province. People in the village have sped up the production of boats to sell in flood seasons.
The boats, built with low-quality wood like jackfruit, mangoes, and durian trees, fetch just VND100,000-200,000 each and usually last just one year. A skilled worker can build 3-4 boats a day.
In addition, trade villages produce others items such as lift nets and mouse traps in Dong Thap Province, where residents are working with high hopes for big floods this season.
Waiting for floods

According to the An Giang Province Hydro Meteorological Forecasting Center, floods will come late this year. At present, floodwater levels measured at stations on Tien and Hau River have risen slowly, about 1-2 cm a day, 60-100cm lower than the same period last year.
In previous years, each production unit produced from 10-15 boats a day to meet travel demands when floods arrived early, said 80-year-old boat maker Nguyen Van Kech of Nam Quang village.
Le Huu Ty, 62, who has over 20 years experience producing fishing nets in Thom Rom Village, said that he could not sell as many nets as in previous years because the floodwater is stumpy.