According to a high-ranking official in the health sector, an average of 25,000 - 76,000 people contract dengue and hundreds of patients die of the disease each year in Vietnam.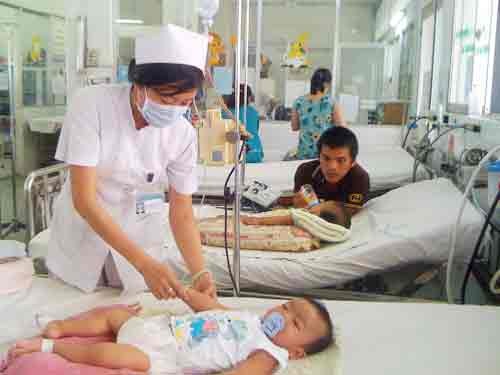 A medical worker takes care of a kid contracted dengue fever at Children Hospital No.1
Speaking at the Asia-Pacific Dengue Fever Prevention Committee meeting on April 19 in Hanoi, Vietnamese Deputy Minister of Public Health, Nguyen Thi Kim Tien said that since 1983 Vietnam has struggled with many dengue epidemics with thousands of people suffering from the disease.
Health experts from Asian and Pacific countries have gathered in Hanoi to share their experiences and discuss measures to prevent and combat dengue.
Dengue epidemic is not the burden of any single country but all nations throughout the world, Ms. Tien said.
Statistics from the Preventive Health Department show that since the beginning of 2011 the country has recorded over 8,000 dengue fever cases. This is about 500 cases of dengue fever per week, much higher than in the same period last year. Moreover, the disease is unpredictable and can arise during any season.
During the two-day long meeting, participants shared their experiences and discussed feasible measures to combat the disease as well as evaluate the epidemic and discuss research methods to develop an anti-dengue vaccine.
The World Health Organization (WHO) estimates that about 50-100 million people suffer from dengue each year, of which around 500,000 patients mostly children are severely critical cases.