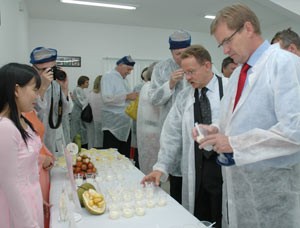 Mr. Bendt Bendtsen (R) visits a company in Ho Chi Minh City (Photo: Viet Dung)
After meetings with Vietnamese Deputy Prime Minister Nguyen Sinh Hung and several ministries in Ha Noi, Deputy Prime Minister of Denmark Bendt Bendtsen and 21 Danish businessmen flew to Ho Chi Minh City on Wednesday night.
Yesterday at the New World Hotel, Mr. Bendtsen opened a seminar titled "Build Viet Nam with Danish Technology," where he said Denmark would transfer advanced technologies for energy-saving and effective use of natural resources to Vietnamese businesses.
After the seminar, he went to Sai Gon Hi-Tech Park to inspect the construction site of the Sonion Company's branch there.
Sonion is a B2B provider for global manufacturers of hearing aids, mobile terminals and phones, headsets, earphones, and medical devices.
"By using US$25 million to build the company, Sonion will carry over its key technologies into Ho Chi Minh City," Mr. Bendtsen said, "I hope there will be a myriad of Danish companies in this sector moving into Viet Nam in the near future."
"However, in order to draw foreign investment, Viet Nam has to possess a healthy business environment, as well as improve its infrastructure and administrative formalities," he said.
In the evening Mr. Bendtsen attended the opening ceremony of Private Equity New Markets and visited the Unification Palace.