National Assembly deputies gathered at a plenary session in Hanoi on August 5 to discuss tax measures to solve difficulties for businesses and individuals as well as boost economic development in 2011.

The deputies emphasised the need to immediately put forward a resolution on some issues, including reducing 30 percent of corporate income tax for small- and medium-sized enterprises in 2011 and halving the value added, corporate and personal income taxes from the second quarter to the end of the year.

They proposed that the NA review the Government bond issuance programme to assess the efficiency and possibility for implementation in the coming time.

Measures for the State budget should focus on raising State budget collection and surmounting outstanding tax debts together with reducing budget overspending and public investment, they said, adding that the State budget overspending should be limited at 5 percent instead of the current 6 percent.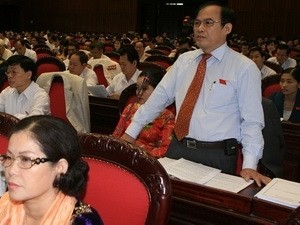 Deputy Phùng Văn Hùng from Cao Bang province speaks
According to newly-appointed Deputy Prime Minister Vu Van Ninh, the Government's goal for 2011-2012 is to give top priority to curbing inflation, stabilising the macro economy and ensuring social welfare.

Businesses faced difficulties resulting from high inflation, input costs and interest rates as well as a slow economic growth, he said, adding that the country's economic growth rate only reached 5.57 percent in the first six months of 2011, lower than the level of the same period last year and the set target.

Therefore, the Government has decided to provide certain tax reductions and exemptions for businesses, he stated.

The NA deputies also discussed the implementation of socio-economic development plans and State budget in the first half of 2011 as well as measures to implement socio-economic development plans and State budget in the last six months of the year./.