National Assembly deputies will quiz Prime Minister Nguyen Tan Dung and four ministers this morning.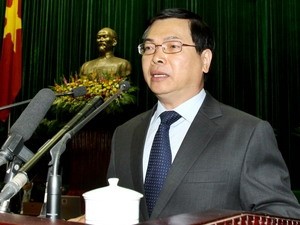 Industry and Trade Minister Vu Huy Hoang
The four are Industry and Trade Minister Vu Huy Hoang, Health Minister Nguyen Quoc Trieu, Finance Minister Vu Van Ninh and Transport Minister, Ho Nghia Dung.
VOV radio will broadcast and VTV telecast the session live.
Deputies had so far submitted hundreds of queries to cabinet members for the question-and-answer session that ends Wednesday morning, said National Assembly Office Chairman Tran Dinh Dan.
The Prime Minister had received questions about the management of State-owned economic groups and major enterprises; the exploitation of bauxite in the Central Highlands and management of the nation's socio-economic development.
Industry and Trade Minister Hoang had been asked about the planning and establishment of electricity companies; power shortages; the control of imports and the price management of such essentials as coal, electricity, petrol and other fuels.
The questions for Health Minister Trieu included over-loading at major public hospitals in Ha Noi and other cities; the cost of medicine and hospital fees and the budget for disease prevention.
Finance Minister Ninh had been asked about the management and distribution of the State budget; public debt, the ministry's responsibility for the audit of economic groups and State-owned companies as well as the management of prices for 'essential goods,' especially during the last months of the year.
The questions for Transport Minister Dung sought an explanation of the ministry's responsibility in the financial losses at shipbuilder Vinashin; the distribution of the budget for road building and its plans to end traffic congestion in major cities.
Assembly Office Chairman Dan said other members would also participate in the question-and-answer sessions if the issues raised related to their ministries and agencies.