After surveying landslide in An Giang province and presiding over the meeting with relevant ministries, agencies and localities about works against riverside and coastal landslide in the delta, the Deputy PM said that the most important solution is planning of economic-social development, including planning for construction, infrastructure and production, associated with ways to cope with climate change and sea level rise.

He required the Ministry of Agriculture and Rural Development to coordinate with ministries and localities to estimate the delta's landslide real situation.
Afterwards they should draw up a comprehensive plan to have a basic for synchronous implementation of measures to cope with landslide and limit natural disaster risks.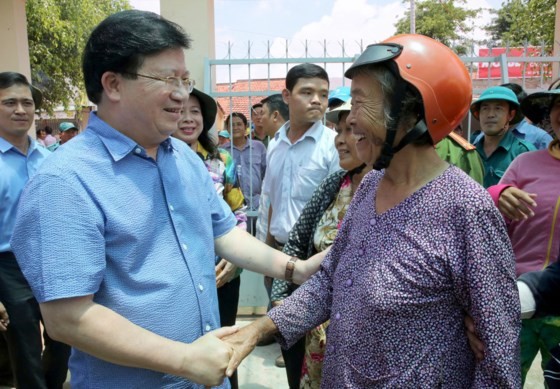 Deputy Prime Minister Trinh Dinh Dung visits landslide affected residents in My Hoi Dong commune, An Giang Province on May 15 (Photo: SGGP)
In addition, he asked them to build a general management mechanism for riverside and coastal areas in line with residents' livelihood, review and improve the system of standards and regulations on landslide prevention especially to areas with weak terrain and complicatedly changing stream flow.
Agencies and localities should review plans to change irrational points in a timely manner, well manage the implementation of plans. Of these, socioeconomic development, construction, infrastructure system and production plans must be in association with climate change and sea level rise.
About short term measures, M. Dung said that the most important thing is protecting residents' life and properties and stabilize their lives.
Provinces in the Mekong Delta should intensify managing sand exploitation, determine to prevent illegal sand mining and strictly handle organizations and individuals breaking the law or abetting violators.
They have been required to regularly inspect riverside and coastal construction works, carry out measures to urgently repair landslide spots in vulnerable areas to prevent them from wide spreading to residential areas and essential infrastructures.
At the meeting, the Ministry of Agriculture and Rural Development reported that the Mekong Delta now has 90 riverside and coastal landslide sections with the total length of 562 kilometers. Of these, 17 sections stretching 33 kilometers are in dangerous situation.