Deputy Prime Minister Nguyen Sinh Hung extended his best wishes to all the Khmer people for The Chol Chnam Thmay New Year Festival, lauding them for their achievements and spirit of unity.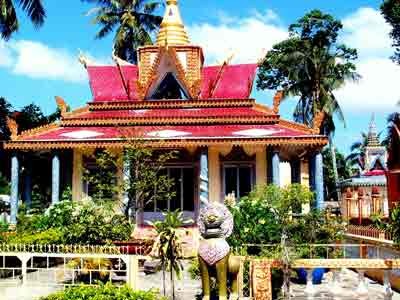 A pagoda of Khmer people. The Chol Chnam Thmay New Year is the Khmer people's traditional New Year(Photo:U.Phuong)
The Chol Chnam Thmay New Year is the Khmer people's traditional New Year. On April 6, it was celebrated in the Mekong Delta province of Can Tho.
Deputy Prime Minister Nguyen Sinh Hung stated that the poverty rate amongst the Khmer people is still very high with many still live without homes or land. Mr. Hung has ordered relevant agencies and local administrations to do all they can to help them.
Over the past few years, many poor Khmer households were given land for agriculture by the government.
Thanks to the government's support, the living standards of the Khmer people have improved significantly with the number of poor households dropping by 4 percent every year. More than 3,500 Khmer youth are now studying in universities and colleges.
The committee of Ethnic Minority in the Mekong delta province of Tra Vinh, where most Khmer people live, said the province has constructed 567 houses for needy Khmer residents so that they can welcome the New Year in their new homes. Tra Vinh province has built 11,239 houses for disadvantaged Khmer people under the national program 134 and project 01. The cost of constructing houses is over VND297billion (US$ 14. 3 million).
The New Year celebrations were organized by the Southwestern Region Steering Committee with participation of Kso Phuoc, Chairman of the National Assembly (NA) Ethnic Minority Council along with representatives from centrally- run ministries, sectors, provinces and cities. The Khmer monks and nuns from 13 Mekong Delta and the southeastern provinces and HCMC also supported the festival.