Vietnamese Deputy Prime Minister Hoang Trung Hai inspected flood conditions in the Mekong Delta province of Dong Thap Tuesday following his safety check in An Giang Monday.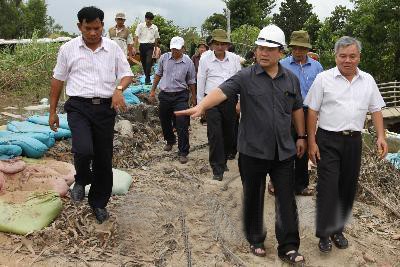 Deputy Prime Minister Hoang Trung Hai (2nd, R) checks flood preparedness works in the Mekong Delta province of An Giang on Oct. 3, 2011 (Photo: Vietnam News Agency)
The two provinces are the hardest hit areas in the worst seasonal flooding in more than a decade.
He scrutinized landslides in Dong Thap's Thanh Binh District and the intensifying work of dykes protecting rice fields in Hong Ngu District and Hong Ngu Town.
The Deputy PM asked provincial officials to continue flood preparedness efforts to protect residents and crops and to minimize losses.
On Monday, floodwaters burst through a dyke in Thong Binh Commune of Tan Hong District in Dong Thap, devastating about 830 hectares of rice.
The national committee on flood and storm preparedness said Monday that the highest water levels since 2000 have inundated more than 20,000 homes in the provinces of An Giang, Dong Thap, Long An and Can Tho, and destroyed about 5,000 hectares of rice fields. Eleven people had been reported dead in the Mekong Delta by Oct. 3.