Deputy Prime Minister Hoang Trung Hai has called for strengthened inspection and severe penalties towards seriously polluting businesses.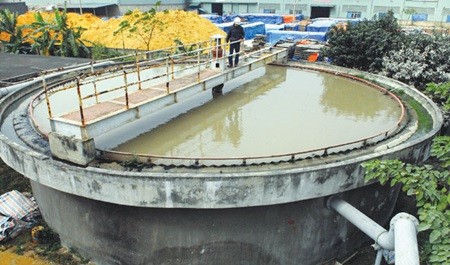 A worker examines a waste water treatment tank for businesses in Thanh Hoa Province's Le Mon Industrial Park. Deputy Prime Minister Hoang Trung Hai asked for more inspections of businesses' implementation of environmental-protection regulations. (Photo: VNA/VNS)
"It is imperative to temporarily suspend the operation [of these businesses] if needed," Hai told a meeting on Saturday to deal with environmental pollution caused by businesses.
Among the 439 polluters identified in Decision No.64/2003/QD-TTg from 2003, which approved a plan to strictly penalise establishments which cause serious environmental pollution, 392 units have completely solved the problem, according to the Ministry of Natural Resources and Environment (MONRE).
Of the184 establishments which caused heavy environmental pollution in line with Decision No 1788/2013/QD-TTg, 67 have basically stopped the situation. The figure is expected to reach 145 establishments by 2020, MONRE told the meeting.
However, it will not fullfil the target set under the decision promulgated on October 1, 2013 by Prime Minister Nguyen Tan Dung to completely 'eradicate' all seriously-polluting business establishments by 2020.
MONRE reported that in Ha Noi alone, there were 12 businesses considered as big polluters, whilst the figure was 13 in HCM City.
Among them, Dong Xuan Textile Factory, Ha Noi Liquor Company, Sunway Ha Tay Building Material and Construction Joint Venture Company, and Song Da Packing JSC are required to leave the city.
The other three seriously polluting establishments in Ha Noi are Nam Thang Long Hospital, Nam Son Waste Treatment Complex and Noi Bai International Airport.
Serious polluters in HCM City include the Transport Hospital, INDICO (Viet Nam Urban and Industrial Zone Development Investment Corporation, and Sai Gon Locomotive Enterprise, the Government e-newspaper baochinhphu.vn reported.
In addition, Ha Noi and HCM City planned to relocate more than 400 and 1,402 establishments respectively liable to cause environmental pollution.
Nevertheless, the major obstacle to addressing pollution problems currently centres on establishments in public areas, notably landfills, the meeting heard.
It is unfeasible and financially impossible to temporarily close or suspend the operation of these landfills.
Total funds needed to deal with pollution in this area are estimated around VND6,300 billion (US$280 million) but the State budget is only able to allocate between VND400 and 600 billion.
Some localities remain lax in dealing with polluting establishments and fail to allocate adequate funds from the local budget as well as implement proper planning. Numerous factories and business establishments are located in the proximity of residential areas, which makes it hard to relocate.
Under these circumstances, the Deputy PM stressed the necessity to implement the decisions and intensify inspection to strictly deal with polluting establishments.
He said it was necessary to temporarily suspend establishments that are intentionally inert to solve the problem.
He asked the MONRE to list these establishments, especially the nine establishments listed in accordance with Decision 64/2003/QD-TTg. More than one year since a June 30, 2014 deadline to solve environmental pollution passed the work was still unfinished.
Heads of establishments which have been financially supported to solve pollution problems but are slow to do so should also be strictly dealt with, Hai said.
He emphasised that it is necessary to publicise establishments that cause severe environmental pollution and are slow to solve it.