Deputy Prime Minister Hoang Trung Hai on March 14 chaired an urgent meeting to discuss measures to cope with the ongoing drought in the central and central highland regions, and provide assistance to farmers.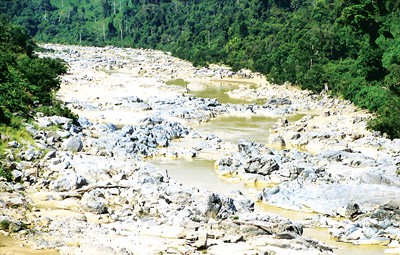 A depleted river bed in the central region (File photo: SGGP)
The meeting was organized in Buon Ma Thuot City in the central highland province of Dak Lak.
According to the Ministry of Agriculture and Rural Development, reservoir levels have fallen in the north-central region, which might face water shortage and salt intrusion by early May.
More than 17,000 hectares of plantations lie parched and 50 hectares of rice has been destroyed from drought and salt penetration in the south-central region.
The Central Highlands have lost more than 400 hectares of plantations and 74,000 hectares are experiencing severe water shortage. Several irrigation and hydropower reservoirs have become depleted.
The Ministry of Agriculture and Rural Development said that they will work with the Ministry of Industry and Trade and Vietnam Electricity to find measures to release water from irrigation and hydropower reservoirs for the lowlands.
The ministry also proposed to the Government to give priority to projects for upgrade and repair of the irrigation system and assist local authorities with VND1 trillion (US$48 million) to cope with drought and salt intrusion.
Deputy Prime Minister Hoang Trung Hai instructed local authorities to pay more attention to anti-drought measures, spend more budget money to dredge canals and increase number of pumping machines.
They should take the initiative to regulate water resources for farm production and reforestation of denuded forest cover.