The Association of Southeast Asian Nations is currently well-situated to set up an ASEAN community, but is also facing a number of difficulties and challenges, particularly those caused by the global economic recession, said Vietnamese Deputy Prime Minister Pham Gia Khiem.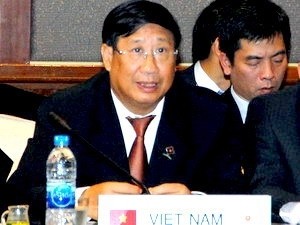 Vietnam's Deputy Prime Minister and Foreign Minister Pham Gia Khiem speaks at the 42nd ASEAN Ministerial Meeting in Phuket, Thailand on July 20 (Photo: VNA)
The Deputy PM cum Foreign Minister made the remark on July 20 at the 42nd ASEAN Ministerial Meeting (AMM-42) being held in Phuket, Thailand.
He stressed that the group should have a strong determination to seriously and effectively implement the Roadmap for the ASEAN Community and soon bring the ASEAN Charter to life.
According to the Vietnamese official, ASEAN should speed up cooperation between its ten member countries as well as its comprehensive relations with partners, draw more support to the ASEAN Community building process, and take full advantage of fields of common interest such as economic-trade, development cooperation and global issues.
He said the ASEAN+1, ASEAN+3, ASEAN Regional Forum (ARF) and East Asian Summit (EAS) have become important channels for dialogues and cooperation, contributing to peace, stability and development in the region, adding that the group should maintain its key role in these forums.
At the AMM-42, the ministers agreed upon the direction and concrete measures to implement the Roadmap for the ASEAN Community, including master plans for each community pillar and the work plan for the second phase of the Initiative for ASEAN on narrowing the development gap in the block, in order to meet targets set for 2015.
The ministers applauded the inauguration of the Committee of ASEAN Permanent Representatives (CPR) in Jakarta, Indonesia, which plays a key role in the new ASEAN apparatus.
They also agreed in principle to the Terms of Reference of the ASEAN human rights body and its official name as the Inter-governmental ASEAN Committee for Human Rights, and a draft of the ASEAN Treaty for Preferences and Exemptions.
The ministers said ASEAN should uphold its active role in pushing up negotiations and cooperation for regional peace, stability and development, and applauded other countries that have been showing interest in ASEAN countries and implementing legal procedures to join the ASEAN Treaty for Amity and Cooperation (TAC).
They stressed the need to continue cooperation in implementing the Southeast Asian Nuclear Weapon-Free Zone Treaty (SEANWFZ) for a long-term target of building the Southeast Asian region into a peaceful, stable and nuclear weapon-free region.
At the end of the meeting, the ministers issued a joint communique on the meeting and a statement to condemn the bomb attacks in Jakarta , Indonesia , on July 17.
The statement also urged the Democratic People's Republic of Korea to adhere to its obligations and relevant resolutions of the United Nations Security Council.
The ministers called on concerned parties to resume the six-party negotiations on the DPRK nuclear issues.
The AMM-42 statement also called on Myanmar to organise free, just and comprehensive elections next year to create a good foundation for the country's socio-economic development in the future.`