Deputy Prime Minister Nguyen Thien Nhan has highlighted the great contributions of the Vietnam Government Web Portal (VGP) to the dissemination of the Government's instruction and management as well as to national socio-economic development.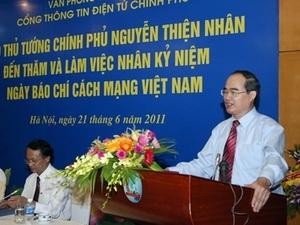 Deputy PM Nguyen Thien Nhan speaks at his visit to VGP
Deputy PM Nhan made his remarks at a working visit to the VGP in Hanoi on June 21, on the occasion of Vietnam Revolutionary Press Day (June 21, 1925 – June 21, 2011).
Deputy PM Nhan commended VGP's constant renewal in content and design, saying it deserved to be the bridge connecting the Government and people.
He emphasised the need for VGP to ensure network security and database safety as well as maintain a smooth information source.
VGP must be a leading unit in e-government and a link between the Government and other web portals of ministries, branches and localities, he said.
The content posted on the portal must clearly manifest the Party, State and Government's political and diplomatic stance, he added.
The deputy PM said he hoped VGP would continue bringing into play the agency providing the Government's instruction and management information, have more new initiatives to attract subscribers and pay attention to training reporters and technical staff.
At a get-together with leaders of nationwide press agencies in Hanoi on June 21, Deputy Director of the Communist Party of Vietnam Central Committee Commission for Popularisation and Education Nguyen The Ky took the occasion to highlight the press contributions to the national construction and defence.
He said he hoped the media will continue bringing into play their results, ensuring exact and objective information for the interest of the nation and people.
The press should be more active in the fight against corruption, wastefulness and other negative social phenomena and continue fighting against hostile forces' wrong stance.
A press award for the ninth great national unity cause – 2011 was launched in Hanoi on this occasion.