Deputy Prime Minister Hoang Trung Hai witnessed the first flow of oil and gas coming from the H5 rig at the Te Giac Trang oil field, at a ceremony held in HCM City yesterday.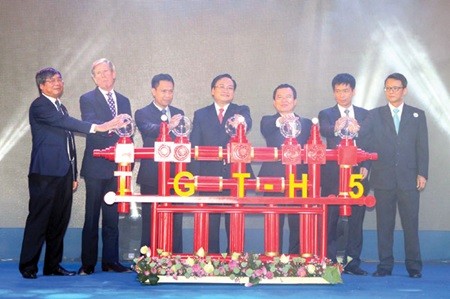 Deputy Prime Minister Hoang Trung Hai (centre) and representatives of Hoang Long Co inaugurate operation of the H5 rig at Te Giac Trang oil field in HCM City yesterday. (Photo: VNA/VNS)
Te Giac Trang, or White Rhino, is situated in Block 16-1, based on a continental shelf about 100km southeast of the southern Vung Tau City. It is under contract and management of the Hoang Long Joint Operating company.
The H5 rig will contribute up to 20,000 barrels of oil per day, helping to raise the total yield of the oil field to 40,000 to 42,000 barrels per day.
This means the oil field will reach an annual yield of some 11.56 million barrels, enabling the company to earn about US$45 million this year.
Hai appreciated efforts of the Viet Nam Oil and Gas Group and Hoang Long for having put the H5 on stream 80 days ahead of schedule, and saving more than $37 million compared with the approved budget while implementing the project.
He said the new operation would help guarantee national energy security and increase economic benefits, reflecting efficient co-operation between domestic and foreign partners.
It would also help enhance competition capacity, labour productivity and operation efficiency for units in the domestic oil and gas sector, he added.
Hoang Long announced commercial development at Te Giac Trang after finishing assessment activities there in September 2009.
Prime Minister Nguyen Tan Dung officially adopted the H5 oil and gas development project in 2013, with a total investment capital of US$324 million.