Deputy Prime Minister Hoang Trung Hai went on an inspection tour of the construction site of Viet Nam's first oil refinery, Dung Quat, in the central province of Quang Ngai on January 8.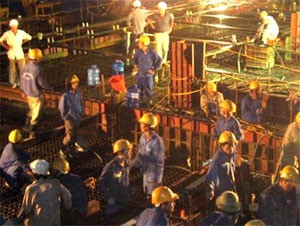 At the construction site of the Dung Quat Oil Refinery
Truong Van Tuyen, deputy general director of PetroVietnam and head of the project's Management Board, reported to the deputy PM that, in 2007, the main contractors, Malaysia's Technip Consortium, had implemented 85 percent of the project, with only 9 percent of project's tasks running behind schedule.
 
Among subcontractors, the construction group had completed 49.2 percent of its work, the design group 100 percent and the equipment group 97 percent.
 
Deputy PM Hai praised the project's better results and directed all groups to hasten implementation over 2008 as only 13 months remain under the project's schedule.
 
Mr. Hai also directed contractors, supervisory teams and the project's management board to prepare an overall plan for the refinery's trial run at the end of this month, exhorted project managers to organize daily, weekly and monthly progress reports to urge supervisors and workers to finish on schedule.
 
The Dung Quat Refinery is one of the nation's key development projects and holds a major role in the nation's energy future.
 
Viet Nam estimates it will have to import 17 million tons of oil per annum by 2010 and 34-35 million tons by 2020. Dung Quat is estimated to meet 33% of local demand while ensuring power security and helping develop central regional economies.
 
Dung Quat's construction began on November 28, 2005, and is now expected to be finished in 2009.
Main contractors are France's Technip, Malaysia's Technip Geoproduction, Spain's Tecnica Reunidas and Japan's JGC working under turnkey contracts with project owner PetroVietnam.