Deputy Prime Minister Truong Hoa Binh on January 31 attended a get-together with nearly 150 former revolutionists who were once imprisoned by enemies.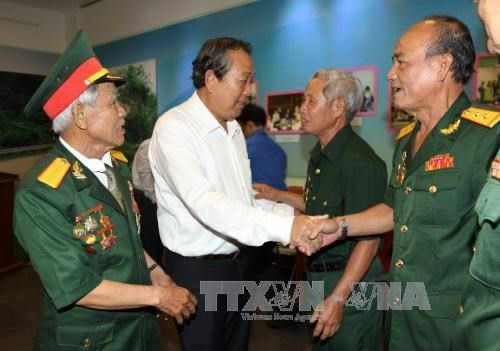 Deputy PM Truong Hoa Binh (in white) shakes hand with a veteran revolutionist. (Source: VNA)
The function at the Museum of War Remnants in Ho Chi Minh City also saw the attendance of former State President Truong Tan Sang.
On behalf of Party, State and Government leaders, Deputy PM Truong Hoa Binh wished the former revolutionists a New Year full of health and happiness.
Recalling the country's revolutionary history, Binh stressed that the Party, State and people always treasure the sacrifice and great contributions by former revolutionary prisoners to the national liberation struggle in the past as well as in the country's construction and defence cause at present.
The Deputy PM said that the Government and administrations at all levels would continue providing care for former political prisoners as well as restore historic sites, including prisons, to educate younger generations on the nation's revolutionary cause.