Deputy Prime Minister Trinh Dinh Dung yesterday ordered the Ministry of Industry and Trade, the Ministry of Agriculture and Rural Development and provincial authorities to instruct businesses to purchase all offshore fishing products attested safety in the north central region.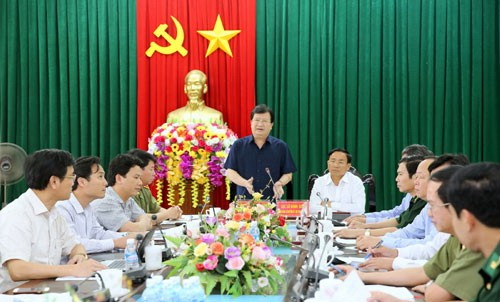 Deputy Prime Minister Trinh Dinh Dung states at a meeting with Ha Tinh, one of four provinces affected by the fish death in the north central region (Photo: SGGP)
The requirement was issued after a meeting between the Deputy PM and leaders of provinces, where hundreds of tons of fish in farms and coastal waters died and washed on the shores in the last half of April. 
 
Deputy PM Dung required the two ministries to establish hot lines announced on the media to timely solve difficulties for fishermen on April 30.
 
The State Bank of Vietnam should instruct related banks to extend the payment deadline of old loans and provide new loans for farmers to continue seafood farming and exploitation. Those fishermen who want to change their occupations would be provided with preferential interest loans.
 
Mr. Dung asked related ministries and agencies to immediately set up inter-agency working groups in the four affected provinces, who will coordinate with chairmen of the provincial people's committees to timely solve related issued in the fish death, repair its consequences, stabilize seafood farming and fishing and fishermen's lives.
 
Specifically, the Ministry of Science and Technology should work with related agencies to find the cause of the fish death as soon as possible. It can ask foreign experts for help if necessary to reach independent and objective conclusions on the case, he added.
 
He asked the Ministry of Natural Resources and Environment to urgently conduct instructions by the Prime Minister and help Ha Tinh province build an automatic observation station at the discharge spot of Taiwanese Formosa steel plant to supervise its wastewater treatment.
 
The Ministry of Agriculture and Rural Development was also asked to provide fishermen with fact-based announcements on safe fishing grounds and farming areas so that they can set their minds at rest to resume production, use and consumption of safe aquatic products in the area.
 
The three ministries were urged to submit to the Prime Minister and local authorities a plan of measures to assist fishermen and traders in the dead fish areas by consuming all offshore fishing products to stabilize their lives on April 30.
 
They should not let any fishing boat with unsalable offshore aquatic products, he affirmed.
 
The Ministry of Health was instructed to coordinate with the other ministries and related agencies to define toxins (if have) in fish and other aquatic products and how they affect human's health, give advices on food safety.
 
The Ministry of Public Security will keep a close eye on the situation, strictly handle any organization and individual breaking the law and ensure public order and safety in the region.
 
Mr. Dung required leaders of the ministries and agencies to directly and quickly respond to any complicated situation and prevent the situation from progressing complicatedly.
 
They must take responsibility for what happen in their fields, he said.
 
They were asked to strengthen human resources for their tasks in the four provinces.
On the same day, the Ministry of Industry and Trade announced hotlines to receive information related to the fish death and assist fishermen to consume their fishing and farmed aquatic products.

Related articles:
Environment Minister admits to shortcoming in central fish death
Taiwanese Formosa apologizes for challenging statement
Agricultural industry to clarify if central fish intoxicated to death in 3-5 days
North central coast white with mass dead fish