At the opening of the ninth session of the National Assembly in Ha Noi on May 16, Deputy Prime Minister Nguyen Tan Dung delivered the Government's five-year plan for socio-economic development in the 2006-2010 period.
The plan's key solutions are:

Investment will be conducted with concentration
Creating great alterations in the development of agriculture and the rural economy, improving living conditions of farmers. Building a diverse agricultural commodity market with high quality, productivity and strong competitiveness. The Government will increase investment for agriculture. Focus will be placed on vocational training and creating jobs in rural areas.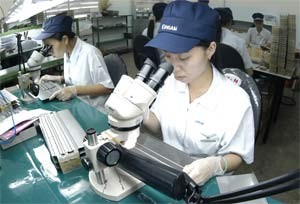 Researchers work in a lab
In industry, resources will be concentrated to develop fields with competitive advantages, creating more products for export. The Government will focus its investment on key fields and products like gas and oil, mining, metallurgy, fertilizers, chemicals, cements, aluminum production, paper pulp, afforestation and engineering.
The Government is also determined to create breakthroughs in service. The Government will give priorities to services that have strong potentiality and competitiveness. The Government will not provide much subsidy for State-run service providers.
Education, health care
Improving the educational quality is of top priority. Efforts will be mobilized to set up one or two universities of international standards. Basic changes will cover tuition and financial regulations in education and training. Increasing international cooperation in scientific and technological development.
The Government will increase investment for health care, upgrade local-level clinics and hospitals, preventive medicine units, general hospitals and major hospitals. Health care costs will change on the basic of sharing charges among the Government and people.
Administrative reforms
Some new mechanism will be establish for enhancing administrative reform, raising the effectiveness of Government management and implementing solutions to prevent and fight corruption. The Government will soon set up a national unit to effectively prevent and fight corruption. In the future, the head of a State administrative agency will appoint the chief of a lower-level similar agency. Middle-level positions at State administrative agencies will be eliminated.