Deputy Prime Minister Nguyen Xuan Phuc has said Vietnam attaches much importance to its strategic partnership with the Republic of Korea (RoK), and highly values recent progress in the two sides' partnership, especially after visits made by the leaders of the two legislative bodies.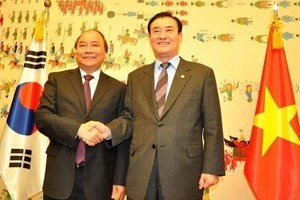 Deputy PM Nguyen Xuan Phuc meets Speaker of the RoK's National Assembly Kang Chang-hee (Photo: VNA)
Deputy PM Phuc made the remark at a January 21 meeting with Speaker of the RoK's National Assembly (NA) Kang Chang-hee as part of the Vietnamese leader's trip to the country.
The Deputy PM suggested that the RoK continue to back the bilateral ties and creates favourable conditions for the two sides' competent agencies to effectively realise the agreements they have reached.
He proposed that the RoK continue supporting the Vietnamese community in the country, particularly Vietnamese brides, to strengthen their integration with the community and stabilise their lives.
For his part, Kang Chang-hee spoke highly of Vietnam's achievements in its reform process and its development potential, voicing his hope that the exchanges and cooperation between the two NAs will be boosted.
The host affirmed that the RoK legislative body will further facilitate the growth of the strategic partnership between the two countries as well as continue to take practical measures to support the Vietnamese community in the country.
Both guest and host agreed that the two sides need to promote people-to-people diplomacy and enhance their friendship, mutual understanding and trust.-VNA