Deputy Prime Minister Nguyen Xuan Phuc and delegates of the National Assembly in Quang Nam Province surveyed the area and met local residents in quake-hit Bac Tra My District, ahead of the 4th session of the 13th National Assembly.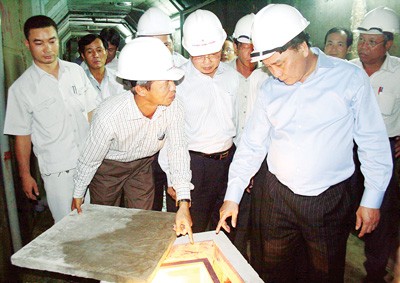 Dep. PM Nguyen Xuan Phuc (Ex. R) examines the Song Tranh 2 Hydropower Plant (Photo: SGGP)
Representatives of relevant ministries, the Institute of Geophysics and Vietnam Electricity (EVN), investor of the Song Tranh 2 Hydropower Plant, were also present at the meetings.
Dang Phong, chairman of the People's Committee in Bac Tra My District, said that frequent and recurring earthquakes have caused cracks in 250 houses and ten public works, leading to major concerns among local residents.
He proposed that related ministries keep a close eye on the safety of the hydropower plant dam and strengthen it even more, so as to withstand the tremors.
Investor of the plant should coordinate with local authorities to repair damages caused by the quakes and help residents in the resettlement area of the Song Tranh 2 Hydropower Plant to stabilize their lives as they have faced a lot of difficulties, he said.
He proposed that the Government have a specific mechanism to resolve problems arising from post-resettlement of residents.
One of the voters, Dinh Muot, said that scientists have given contradictory statements on causes of the earthquakes to the media, all of which seem plausible, but have only confused local residents even more who don't know what to believe.
He suggested that ministries issue a more comprehensive conclusion and set residents' minds at rest.
Ho Van Loi, chairman of the People's Committee in Tra Doc Commune, said that besides giving estimations on earthquakes, relevant sides should have specific measures to protect residents' lives and property.
In response, scientists from the Institute of Geophysics, representatives from the Ministries of Industry and Trade, Construction, and Science and Technology reaffirmed that the Song Tranh 2 Hydropower Plant dam is safe.
Earthquakes in Bac Tra My District cannot exceed 5.5 on the Richter scale. As a result, residents should rest easy, they said.
Deputy PM Nguyen Xuan Phuc said that the Government always places residents' lives and their properties above all else.
Although scientists have affirmed that the Song Tranh 2 Plant is safe, the Government has not permitted water accumulation in the reservoir.
Mr. Phuc ordered central and local authorities to have flood and storm prevention measures ready and prepare for event of a dam breach.
He also proposed the media report news from official sources of the State in order not to confuse local residents and public at large.
Related articles:
Expersts assure safety of water-leaking hydropower plant dam
Another earthquake causes panic in Bac Tra My District
Quang Nam Province seeks expert opinion on earthquakes
Four tremors in 14 hours rattle Quang Nam Province