Deputy Prime Minister Hoang Trung Hai yesterday led a government taskforce to inspect the flood damage and direct disease-prevention work in the central provinces of Phu Yen and Khanh Hoa.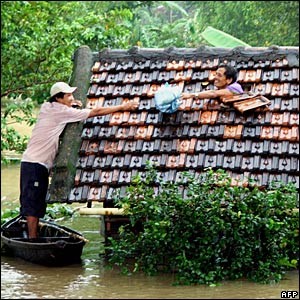 Victims of the flood in Phu Yen province.
Heavy rains in late November caused widespread flooding in Vietnam's central region, claiming the lives of at least 21 people and causing substantial damage to property and infrastructure.
Mr Hai yesterday went to Song Cau town to offer condolences and VND3 million to the family of Nguyen Cut who lost three sons when their ship sank on November 15.
At a meeting with the local government, Mr Hai called for cleanup work to be conducted quickly to help residents resume their normal lives as soon as possible. He also urged local authorities to provide appropriate support to people whose property was damaged by the floods.
Mr Hai said keeping the flood-affected residents warm and fed was important, as was carrying out disease-prevention work.
The Deputy Prime Minister also visited Khanh Hoa Province where he was given a report on the damage the floods had caused in the province.rovincial officials said between November 13 and 30, 18 people were killed and one injured by the floods that swept through the province. More than 412 houses were damaged, 121 ships were sunk, many roads were cut off and a number of reservoirs were seriously damaged.
Total losses caused by the flooding in Khanh Hoa are estimated at VND60 billion (US$4 million), local authorities said.
The provincial authorities have asked the government to provide VND15 billion to pay for urgent repairs and 200 million tons of rice.
Mr. Hai called on the province to ensure work was carried out quickly to clean up the storm damage to prevent epidemics. He also said authorities should also make fixing the damaged transport systems and repairing dikes and drains a priority.