Deputy Prime Minister Trinh Dinh Dung has asked localities in central coastal regions to take measures to minimize losses caused by on-going floods.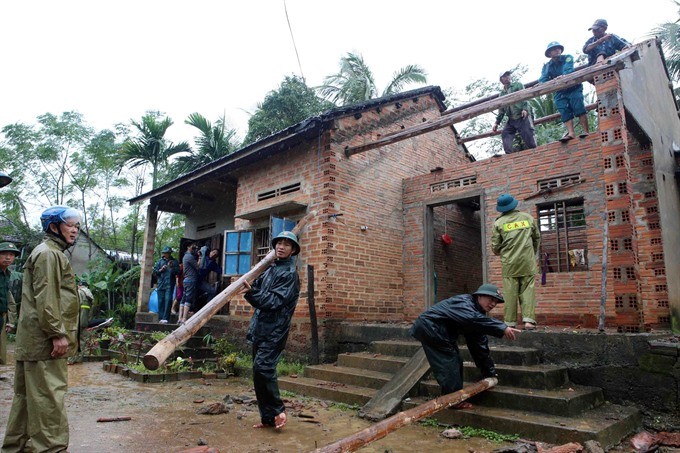 Army and police officers help local residents fix houses in An My Commune, Hoai An District in Binh Dinh Province after damage caused by recent flooding. (Photo: VNA/VNS)
He made the request at an online conference reviewing flood prevention and tackling the aftermath of flooding in 18 coastal provinces and cities in the Central and Central Highlands regions, held in Hanoi yesterday.
Mr. Dung, also head of the National Committee for Search and Rescue, ordered central cities and provinces from Nghe An to Binh Thuan to support families who had casualties in floods and continue to search for the missing. The Ministry of Agriculture and Rural Development (MARD) was asked to evaluate the impacts of the floods on hydropower reservoirs and irrigation systems.
The MARD was directed to co-ordinate with the Ministry of Industry and Trade (MoIT) to enhance inspections and management of flood discharges from reservoirs. The Deputy PM urged the Ministry of Natural Resources and Environment (MoNRE) to co-operate with the MoIT to develop the monitoring, forecasting and warning systems, and install equipment at hydro meteorological stations, especially in flood and landslide-prone areas.
Co-ordinated mechanisms between local authorities and owners of reservoirs were also needed to ensure safety for reservoirs. Those who did not obey regulations related to reservoir operation should be punished.
The deputy PM asked localities and ministries to speed up communication to raise capacity for authorized officials who work in search and rescue as well as the community's responsibility in natural disaster response.
The MARD was ordered to work with the Ministry of Construction (MoC) and localities in carrying out projects on forest protection and development.
He asked the MoC to co-operate with relevant ministries and localities to build maps defining areas prone to natural disasters, especially floods and landslides, so as to have proper plans.
Localities were also directed to design preventive measures and response plans for natural disasters.
He suggested building more rain gauge and rescue centers in the central region, particularly the north-central part, along with upgrading drainage and dyke systems, and preventing soil erosion and flashfloods in mountainous areas.
Mr. Tran Quang Hoai, Deputy Director General of the Department of Water Resources under the MARD, said heavy rains and floods in October and November left 65 people dead and missing. Torrential rainfall flooded nearly 192,000 houses and over 22,100 ha of rice. Total damage was estimated at about VND7 trillion (US$317 million).
Deputy PM Dung blamed the high casualties on shortcomings in disaster prevention work, including poor awareness of some officials and people of natural disasters.
Hydrometeorology forecasts had been limited, while co-ordination among agencies had been poor and designing and implementing response plans against incidents had been slow, he said.
The infrastructure development of transport systems, industrial zones and urban areas was to blame for the intensive flooding, he said.
Climate change had worsened the consequences of natural disasters, he said.
To offset damage caused by the floods, over 4,400 tons of rice and a large amount of medicine have been provided to four central provinces of Thanh Hoa, Nghe An, Ha Tinh and Quang Binh.
Ministries and localities proposed the government support VND305 billion ($13.5 million) as well as thousands of tons of seeds of various kinds to 14 provinces hit by the floods.