The government has paid attention to and issued documents on fire prevention and safety to strengthen the capacity of buildings, however, the implementation process has shown drawbacks, said Deputy Prime Minister Hoang Trung Hai during a meeting with sectors and provinces on Thursday.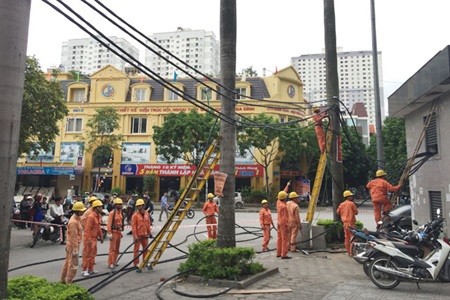 Electricity workers repair power lines in Xa La new urban area where a blaze occurred last month. The quality of buildings in many cities does not meet safety requirements. — VNA/VNS Photo Manh Khanh
The meeting aimed at reviewing and promoting fire prevention and control as well as safety in the capacity of apartments and old public buildings in urban areas.
According to the Department of Fire Prevention and Control, Rescue and Salvage under Public Security Ministry, among 2,600 blazes this year until now, sixteen cases occurred at high-rises, causing over VND10 billion (US$455,000) of property losses.
The fire's cause is due to loose management of local authorities in construction and fire prevention control. The punishments for violations in fire prevention have not been focused, leading to long-lasting violations, Major General Doan Viet Manh, the department's director, said.
Regarding inspections on the capacity of houses and old and dangerous public buildings in the cities, a report of the Construction Ministry shows that a lot of high-rises and public buildings, which were built long ago and are out of date, have degraded in quality and need their safety evaluated.
More than 3,000sq.m of old apartments across the country were built before 1994 with over 100,000 residents living in, the report reveals.
During the discussion, the participants shared a common issue in which buildings' quality does not meet requirements on fire and strength bearing capacities. Fires and explosions affect these abilities and lead to collapse.
Sharing ideas with representatives from the two ministries, the deputy PM pointed out that management in construction and investment is the biggest weakness because developers do not follow criteria in fire prevention and control as well as receiving construction permission while the punishments are not strict.
Many works do not meet standards in electricity, water systems but are still in operation, he said, adding one more contributor which is the enlargement of residents' living areas without following fire prevention and control regulations.
Awareness of investors and residents remains low with a small number of high-rises conducting fire prevention rehearsals, he said.
Hai ordered the public security ministry to work with the construction ministry and relevant units to plan a document which details fire prevention and control, ensuring safety in strength bearing capacity of buildings and submit it to the government.
The document should focus on directing localities' people's committees to review high-rises, residential areas, private houses and impose strict punishments on violations while asking investors to improve weaknesses in fire prevention and control.
He also highlighted the necessity of reviewing documents and laws to ensure consistency of regulations.