The Chinese community must be afforded equal status in society and their potential must be promoted in the country's development, said Deputy Prime Minister Truong Vinh Trong at a conference held in Ho Chi Minh City yesterday.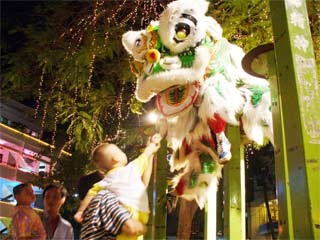 Chinese community in HCM City's District 5 celebrates their Tet holidays with colorful and traditional activities (Photo: T.K.)
At the conference to review government policies on improving lives of the country's one-million-strong Chinese community, officials agreed that the policies were implemented coherently in all sectors and all-level agencies.

After 10 years of implementation, the Chinese community's living standards, economy, culture and political situation are improved and more stable.

The Chinese community's political participation has also been constantly improved. In the 2004-2009 term, 832 Chinese were elected delegates of the People's Council, Fatherland Front Committee and Executive Committee at all levels.

Deputy PM Trong said, "The policies have made remarkable changes in the Chinese Community. It shows the State and Party's care for the Chinese community."

He urged related agencies to continue to carry out the policies comprehensively to facilitate the Chinese community's activities.

It is necessary "to pay more attention to improving living conditions of the Chinese community so that they consider themselves citizens of Viet Nam equal to other communities," the deputy PM said.

Nearly 17,400 enterprises are owned by the local Chinese Vietnamese in Viet Nam, with more than 14,100 or 81 percent centered in Ho Chi Minh City. These have made remarkable contributions to economic development and generated jobs for tens of thousands of people.

The Ministry of Education and Training has been playing its part in preserving Chinese culture by supporting 102 Chinese language schools and centers, educating 65,000 students.