Deputy Prime Minister Nguyen Xuan Phuc has required the Central Amnesty Advisory Council to check and approve the list of amnesty cases in an open, transparent and careful manner in accordance with the law.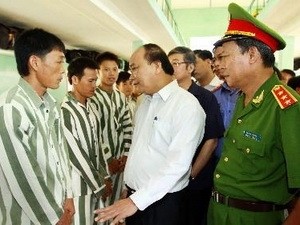 Deputy PM Nguyen Xuan Phuc visits prisoners at Ninh Khanh prison in Hoa Lu district, Ninh Binh province, on August 18. (Photo: VNA)
At the working session of the Central Amnesty Advisory Council in Hanoi on August 19, the deputy prime minister stressed that humanity and clemency are the Vietnamese Party and State's great policies in the fight against crime and combined closely in punishing and re-educating criminals.
He affirmed that the Party and Government will give due punishment to anyone who deliberately causes harm to the nation and at the same time give leniency to people who came to repent while serving their sentences, as well as create all favourable conditions for them to correct their mistakes and become useful citizens.
The Deputy PM also urged agencies and localities to pay more attention to helping former prisoners quickly reintegrate into the community and create all possible conditions for them to find jobs and stabilise their lives.
According to Phuc, since 2009 the Vietnamese State has implemented four grand amnesties, giving reprieve for 48,053 prisoners, while 601 others had their imprisonment postponed.
He noted that pardoned people are less likely to relapse back into their criminal ways than those who are released from jail on schedule.
The Central Amnesty Advisory Council met to consider and approve the national amnesty document based on the President's Decision on Amnesty for 2013 on the occasion of the upcoming National Day (September 2).