The Vietnamese Government is committed to raising the aid effectiveness in line with the Ha Noi Core Statement, which is being actively implemented by Government agencies and donors, Deputy Prime Minister Pham Gia Khiem said at the opening session of the Consultative Group's Mid-Year Meeting on June 9.
"On its part, the Vietnamese Government to emphasize the urgent need to improve quality and efficiency of the mobilization and use of official development assistance (ODA) in the next five years," Mr. Khiem said.
"It is our hope that our mid-year meeting will truly be a candid and open dialog so that ODA sources will be effectively managed and utilize, thus contributing to the realization of Viet Nam's socio-economic development targets for the 2006-10 period," he said.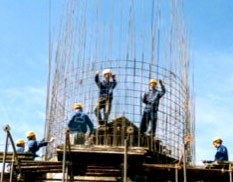 ODA is important to infrastructure development in Viet Nam.
The Deputy PM added the Government has instructed relevant ministries and agencies to review the management and use of the State budget, including ODA, to have timely solutions for strengthening the management and effectively using ODA.
"We undertake to investigate and handle corruption cases in a timely and open manner. Recent corruption cases are currently under investigation and will be severely dealt with and no one is missed. We will make public the conclusions when investigation is completed."
The Consultative Group for Viet Nam, consisting of the country's Government officials and representatives from international donors, is holding its informal mid-year review meeting on June 9-10 in Nha Trang City.
The meeting focuses on an update on socio-economic development in the past six months and plans for the rest of the year; tasks and solutions for successful implementation of the 2006-2010 Socio-Economic Development Plan; and progress on the aid effectiveness. The chairmen are Minister of Planning and Investment Vo Hong Phuc and Klaus Rohland, Country Director of the World Bank in Viet Nam.
The tasks and solutions for the five-year plan include business development; environmentally sustainable development; and institutional reforms. Some of the institutional reform topics are anti-corruption, legal sector development and judiciary reform, post-WTO accession, public administration reform, and rules on associations.
A separate Vietnam Business Forum with the business community, both domestic and foreign, was held on June 5 in Ha Noi by the World Bank's International Finance Corporation in cooperation with the Ministry of Planning and Investment. 
World Bank Viet Nam Country Director Klaus Rohland told the forum that a recent WB assessment on ODA use in Viet Nam showed that the country has reached a high standard in effective use of this capital source. 
In general, Viet Nam has fulfilled its development goals, said Mr. Rohland. He stressed what happenned in Viet Nam over the past ten years have proven the country's success in comparison with other countries of the same period. However, Viet Nam should work harder to achieve greater achievements.
Last year's Consultative Group Meeting for Viet Nam was held in Ha Noi in December. Donor countries and international development organizations indicated around US$3.7 billion in support of Vietnam's poverty reduction and development agenda.
Related article
Consultative Group's Mid-Year Meeting Set for Next Week