A government mission, led by Deputy Prime Minister Hoang Trung Hai, yesterday made a trip to Quang Ngai and Binh Dinh provinces to visit flood victims and inspect reconstruction work.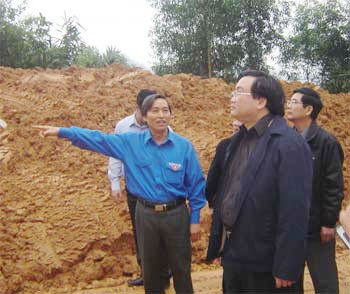 Deputy PM Hoang Trung Hai (F) inspects reconstruction work in Tra Bong district, Quang Ngai province (Photo: Tuoi Tre)

Mr. Hai visited Tra Lam commune, Tra Bong district in Quang Ngai, where a teacher was killed and two others injured on November 27 in the recent floods that caused severe landslides.

The provincial Transport Department and relevant agencies have been cleaning up the area but work has been hampered by the scale of the landslides.

The group also went to Tra Xuan to give their condolences to the family of Huynh Thi Kim Yen, a teacher who was killed in a landslide and whose husband remains in hospital.

At Tra Lam commune, Mr. Hai offered gifts to 63 families of Kor minority people, who suffered great losses in the floods and who are currently living in tents along provincial road 622 at the foot of Eo Chim Mount.

The local authorities have provided flood victims with roofing sheets and essential items worth VND90 million (US$5,300), said Ho Van The, chairman of Tra Bong district.

They were also choosing a site that could be developed into a resettlement area, he added.

At a meeting with the local government, Mr Hai and Minister of Agriculture and Rural Development Cao Duc Phat urged them to speed up cleaning and take steps to help local residents resume normal life soon.

From November 16-28, four people were killed and another four injured in the heavy rains and floods in the province. More than 100 houses were damaged, many roads were cut off and some reservoirs were seriously damaged, said the authorities.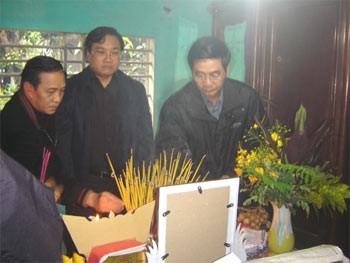 Deputy PM Hoang Trung Hai (L, 2nd) offers incense to Huynh Thi Kim Yen, who was killed in the recent flood in Quang Ngai province (Photo: Tuoi Tre)
Total losses caused by the flooding are estimated at VND67 billion (US$4 million), local authorities said.

The province has asked the central government to provide it with VND60 billion (US$3.5 million), 1,000 tons of rice and 400 tons of crop seeds.

Later the same day, the group arrived in Binh Dinh province and visited some locals in Phu My and Phu Cat districts, which have suffered much flood damage.

Eight people were killed, one is still missing and many are sick and injured. Total damage in Binh Dinh province is an estimated VND120 billion (US$7 million).

The provincial authorities have asked the central government for VND170 billion (US$10 million) in post-flood reconstruction work.

Mr. Hai ordered the local authorities to speed up the distribution of relief to flood victims and assist flood-hit households.

He also called on the province to ensure work is carried out cleaning the environment to prevent epidemics, fix transport systems, and repair dykes and drains soon.

Mr. Hai said the government will consider providing financial support requested by Binh Dinh and Quang Ngai.