Deputy Prime Minister Hoang Trung Hai visited An Giang Province, one of the worst flood affected provinces in the Mekong Delta, on October 3.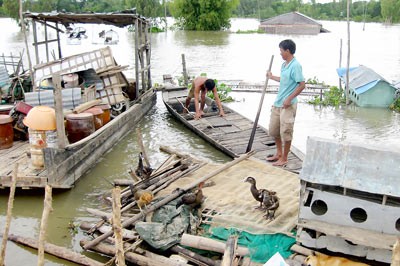 People moving belongings from flood ravaged homes in Tam Nong District of Dong Thap Province (Photo: SGGP)
After surveying the most vulnerable districts of Chau Phu, An Phu, Tinh Bien and Chau Thanh, Mr. Hai stressed that An Giang Province should continue to mobilize all resources to fortify the dyke system and keep alert to more flooding of areas.
Local authorities should focus on evacuating people from flooded and landslide prone areas, particularly near rivers and canals, and continue to pump out floodwaters from the rice fields.
Mr. Hai said that the Government will do all it can to assist An Giang and other provinces in the Mekong Delta to fortify their dyke systems and canals, in order to protect the autumn-winter rice crop.
According to the Steering Committee for Flood and Storm Prevention in An Giang Province, floodwaters have submerged 200 kilometers of road, caused landslides in 21 residential areas and inundated over 14,000 houses.
Breached dykes have caused complete devastation of nearly 4,000 hectares of rice crops and left 1,600 households marooned and in urgent need of food supplies and essential commodities.
 
On October 3, floodwaters burst through a breached dyke in Thong Binh Commune of Tan Hong District in Dong Thap Province, devastating about 830 hectares of rice crops which were only 30-45 days old.
The breached dyke has now ravaged 1,825 hectares of rice crops in the province.
Over 500 hectares of rice crops and 306 hectares of vegetables in Hon Dat and Giang Thanh Districts of Kien Giang Province are completely destroyed due to heavy rains and flooding.
Dao Xuan Nha, head of the Department of Agriculture and Rural Development says if floodwaters rise by 50-60cm, the devastation may affect 1,000 hectares of rice growing area in Hon Dat District.
Soldiers from the army are helping residents to harvest the standing rice crop and salvage whatever they can from 300 hectares of flooded rice fields in Giang Thanh District.
Related articles:
Floods cause huge financial loss in Dong Thap Province
Rising floodwaters cause more havoc in Mekong Delta
Floodwaters breach dykes in Dong Thap, An Giang