Deputy Prime Minister Nguyen Xuan Phuc, has instructed Hanoi to step up propaganda so as to raise awareness in residents to comply with traffic regulations, and to continue implementing measures to ensure traffic safety, while also easing the regular flow of traffic to avoid traffic jams.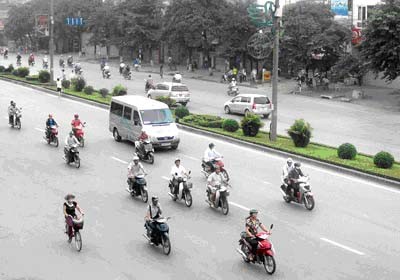 After one month of implementation of new school and office timings, traffic has eased on Dai Co Viet Street in Hanoi (Photo: SGGP)
Deputy PM Phuc, who is also Chairman of the National Traffic Safety Committee, has asked Hanoi to strive to reduce the number of traffic jams by 30 per cent and traffic accidents by 20 per cent in 2012.
To reach the above targets, he has proposed that Hanoi focus on propaganda to raise awareness amongst residents and those found violating traffic law or misusing pavements and streets for parking and businesses should be penalised heavily.
 
He also instructed Hanoi to closely monitor and improve effectiveness of office and school timings, as per the new adjustment. Measures to resolve traffic congestion during peak time from 7-8pm everyday, should be tackled with ease and efficiency.
Besides, city authorities should coordinate with relevant ministries and departments to relocate administrative organisations, universities, colleges, vocational centres, hospitals and industrial units outside of the city centre. These facilities should not be permitted to congest the city centre.