Deputy Prime Minister Truong Vinh Trong on September 12 received a delegation from the Spiritual Council of Baha'i Religious Community led by its Chairman Nguyen Thuc.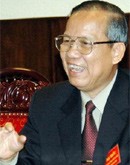 Deputy Prime Minister Truong Vinh Trong
The Deputy PM highly valued the Baha'i religious sect's contributions to the society and affirmed the Party and State's policies to respect religious freedom.
He stressed that religions should stand side by side with the country in the national construction and defence in the interest of the people and avoid taking advantage of religion to do things that affect the country's interest.
He said he believed that Baha'i followers will be good citizens and contribute to the great national unity bloc and the country's renewal process.
For his part, Thuc thanked the Party and State for the care they showed to the Baha'i Community of Vietnam after officially recognising the sect on July 14, 2008.
He promised that the Baha'i Community, which has 7,000 followers in 43 provinces and cities, will continue to strive for the country's development.