Deputy Prime Minister Trinh Dinh Dung on February 9th worked with Aviation Design and Construction Consulting Company (ADCC) about projects on Tan Son Nhat International Airport upgrading, which he said must be implemented quicky to solve traffic jam from the air to the ground and from inside to outside the airport.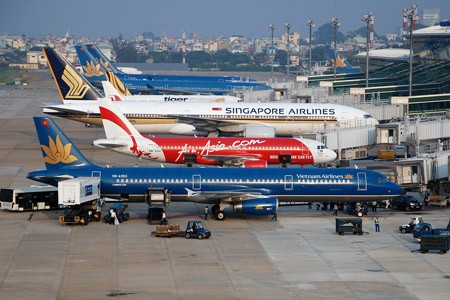 Deputy PM Trinh Dinh Dung prompts the upgrading of Tan Son Nhat International Airport to reduce traffic jam (Photo: SGGP)
The ADCC is a company under the Ministry of National Defense, tasked by the Prime Minister to be the consultant of the airport's upgrading projects.
At the meeting, Mr. Dung required the airport to be upgraded efficiently with low cost because of public investment capital difficulties. The project should minimize the use of state budget and raise funds from social resources as well as businesses to improve investment efficiency, quality and reduce loss. Despite low cost, the work must ensure quality, urban landscape, environment and safety in construction and exploitation, he asked.
He urged the consulting firm to provide many upgrading projects for ministries to analyze, estimate and choose the best one and submit to the Government and Prime Minister for approval.
At the meeting, the ADCC reported three completed and three new projects. The first project will build new runways, taxiways, aprons, terminals and other facilities in the area formerly meant for a golf course north of the airport, relocating 140,000 surrounding households.
Construction will be done in 10-15 years at the total cost of VND201,350 billion (US$8.9 billion). The airport's total capacity will increase to 60 million passengers a year.
Project 2 will build parallel taxiways, those connecting runways and aprons and rapid exit taxiways. Runway 25L/07R will be improved and a new apron will be constructed in the north of the airport. In addition, terminal T3 will be built for both military and civilian purposes serving 10 million passengers a year and terminal T4 will break ground with the same passenger capacity.
The project will complete in 8-10 years at the capital of VND61 trillion ($2.7 billion) to transport a total of 43-45 million passengers a year.
Project 2B will build runway no.3 in the north, rapid exit taxiways linking new runways up to aprons, terminal T4 in the north and terminal T3 in the south of the airport. Total capacity will reach 48-50 million passengers a year. This project will take VND93 trillion ($4.11 billion) and 10-12 years of construction.
Project 2C is similar to 2B building terminal T4 with larger capacity of 25-30 million passengers a year, taking the airport's total capacity to 68-70 million passengers. It is expected to cost VND131 trillion ($5.79 billion) and done in 15 years.
Project 2D will construct T5 terminal raising the capacity to 78-80 million a year. Construction will complete in 15 years at the total cost of VND185.5 trillion ($8.2 billion).
Project 3 will build parallel taxiways and connecting ways between runways and aprons, rapid exit taxiways; upgrade the 25L/07R runway, build terminal T3 for the both purposes and terminal T4 transporting 10 million passengers a year. This project will use the available land fund from the military so it will take only VND19.7 trillion ($87 million) and three years of construction but still ensure the capacity of 43-45 million passengers a year.
Mr. Dung required the company to continue improving the reported projects and supplement Project 3B building rapid exit taxiways and parallel taxiways between two runways, upgrade 25L/07R runway and construct a passenger terminal in the golf course area with the capacity of 43-45 million passengers. The supplementation aims to create a better foundation to compare projects together and make a precise choice.