The nation will face a serious shortage of human resources for socio-economic development, if no breakthrough is made in increasing both the quantity and quality of teachers for vocational training.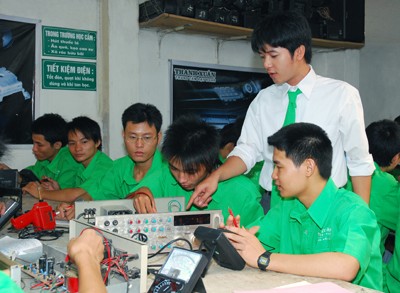 Thanh Xuan Vocational Training Center in Ho Chi Minh City
Deputy Prime Minister Nguyen Thien Nhan attended a working session on Aug. 14 with relevant ministries to find measures to overcome the shortage of trainers at vocational training schools and junior colleges.
According to Vice Minister of Labour, War Invalids and Social Affairs Nguyen Thanh Hoa, Vietnam currently lacks about 3,500 vocational trainers and teachers' training schools need to increase their enrolment to meet the demand.
The Deputy PM said the national target is to have 20,000 vocational trainers by 2015.
He suggested expansion of vocational teachers' training departments at vocational junior training colleges and technical universities, the Deputy PM said. Besides, he added, it is necessary to sent vocational trainers abroad for practice to increase their skills.
The Deputy PM instructed the Ministry of Labour, War Invalids and Social Affairs and Ministry of Education and Training to jointly draft of a project on training of intermediate- and higher-level vocational trainers to submit to the Prime Minister for approval in December 2008