Businesses, particularly State-owned ones, should be pioneers in creating jobs for former drug-addicts to help them re-integrate into society and avoid a relapse into addiction, Deputy Prime Minister Truong Vinh Trong said September 26.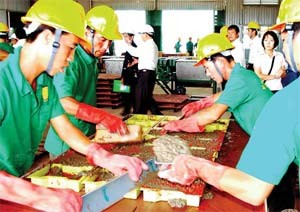 Former drug addicts trained in making bricks at the Nhi Xuan Vocational Training and Job Creating Center in Ho Chi Minh City during their detoxification (Photo: SGGP)
His appeal was made at the conference on "the reality of HIV/AIDS, drug addiction and prostitution in the workforce and policies to deal with them," held in the northern province of Quang Ninh.
The deputy PM, also chairman of a committee in charge of these issues, highly appreciated the efforts of relevant agencies in preventing and fighting HIV/AIDS, drug addiction and prostitution in the workforce.
He called on businesses to enhance their social responsibility for creating jobs for former addicts and prostitutes so that they can stabilize their life and rejoin society.

The conference's attendants heard many related reports by ministries and local authorities.
They also heard some presentations, such as "Trade unions' role in information dissemination, education and propaganda related to fight HIV/AIDS and prostitution among the labor force," "Businesses' social responsibility in anti-HIV/AIDS," and "Impediments in fighting HIV infections at workplaces and in generating jobs for former drug-addicts."

Reviewing past performances in the field, the Vietnam General Confederation of Labor said that the propaganda on fighting and preventing social problems has been well executed at State-owned enterprises and government agencies, but it has not been paid due attention by other sectors.
After the conference, participants took a trip to Ha Tu Coal Co. in the province's Ha Long City, where they were introduced to the company's model of employing former drug addicts.