Deputy Prime Minister Hoang Trung Hai led a government delegation to visit flood-effected residents in the central province of Binh Dinh on Saturday.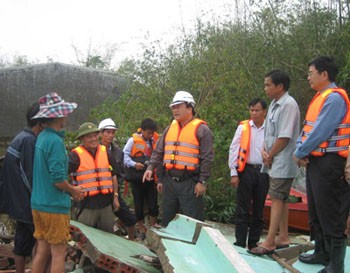 Deputy Prime Minister Hoang Trung Hai (the fourth from the right) visits a family with collapsed house in Phu Cat District, Binh Dinh Province on November 20 (Photo: SGGP)
The delegation visited and gave presents to families with collapsed houses in Chanh Cat Commune, Phu Cat District.They also visited and sent condolence to family of the 17 year old girl Duong Thi Diem, who was swept away by floodwaters in An Nhon District.
The consecutive floods since the end of October have caused severe damage to Binh Dinh people with ten dead, one missing and six injured, the province authorities reported. Over 18,000 homes were flooded with 151 shattered.
Agricultural production and traffic infrastructure were badly affected with total damage estimated to reach VND700 billion (US$350 million). About 10,000 households have still been inundated in Tuy Phuoc and Phu Cat districts.
Binh Dinh Province should stockpile 1,000 tons of rice for residents in flood-affected areas and prepare enough seeds for the coming winter-spring rice crop.
In the neighboring province of Phu Yen on the same day, dozen of households in Phu Thanh Ward, Tuy Hoa town used boats to displace rice and other belongings as the floodwaters touched several homes' roofs. A total of 100 homes were badly dipped.
The 65 year old man Ngo Van Ngon said he had never seen such flooding in the ward. Several local residents concerned that when would the flooding recede as the area looks like a hollow without river.
In the meantime, several areas were isolated in Quang Nam and Quang Ngai provinces.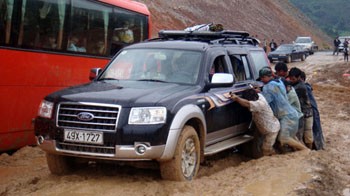 Local residents help to take a car through the swampy stretch on Hon Giao mountain pass, linking Nha Trang and Da Lat cities, on November 20 (Photo: Tuoi Tre)
As of Saturday afternoon, several communes Son Tay, Tay Tra and Tra Bong districts, Quang Ngai were marooned as mountain landslide caused traffic congestion.
In Quang Nam Province, about 100,000 cubic meters of soil and stone from a hill fell down to collapse seven homes. On the previous day, fishermen found the body of Tra Van Minh at the junction of Nuoc Oa and Truong rivers, 400 meters from the place where he was swept away.
Some low lying areas in Khanh Hoa Province were inundated on the same time. The province has evacuated 1,260 people from flooded portions with most of them from Ninh Hoa District.
The body of Phan Ngoc Bao, 19, was found on Saturday, one day after he was missing in the fierce flood.
After several days of torrential rains, the main road linking Nha Trang and Da Lat cities on Hon Giao mountain pass continued landslide badly.
At the mountain pass foot in Khanh Vinh District of Khanh Hoa Province, the road was blanketed under soil, stone and 0.3-0.5 meter of red mud. Many cars and buses got stuck.
15 kilometers from that spot, a 1,500 cubic meter rock fell in the road since November 19, local officials had to used explosive to clear the traffic.
Nguyen Cong Dinh, director of Khanh Hoa Province Department of Transport said that all vehicles are temporarily banned to travel on the road.