Although the VND1.02 trillion (US$63 million) spent on the medical sector in 2006 was increased by VND128 billion for 2007, the social investment in the sector still needs to be expanded, Deputy Chairman of the HCMC People's Committee Ms. Nguyen Thi Thu Ha told National Assembly Standing Committee inspectors and Ho Chi Minh City leaders at a meeting yesterday. At least 5.6 percent of the state's budget is now spent on health care, she added.
There has been progress in medical treatment thanks to public expenditure, according to Dr. Nguyen Van Chau, director of HCMC Health Department.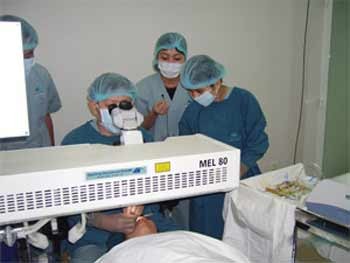 An eye surgery is carried out at private An Sinh hospital (Photo:T.Nhu)
Thirty-six state medical clinics have become self-financing. They have improved their services by providing after hours treatment and by allowing physicians chosen by the patient to assist women giving birth or to perform operations.
Clinic managers and staff pool money to buy new equipment and facilities. Clinics have also raised money by joining hands with private organizations and individuals who invest in treatment services.

While state hospitals have made limited progress, private infirmaries have mushroomed. There are 12,467 private medical clinics in the city, including local and foreign-invested ones, in which a total of VND1.77 trillion (US$111 million) has been invested.
Healthcare quality has greatly improved in small towns and rural districts. As a result, more and more patients come to these private hospitals, reducing the pressure on central hospitals.
However, the flip side of the coin is that private hospitals have attracted a large quantity of highly-qualified doctors because they pay more than state hospitals.
Meeting participants also discussed the shortage of medical staff at hospitals in small towns and rural districts.
Health care managers should assign family doctors, rotate medical staff in urban hospitals with those in rural areas, and provide bonuses to those working for small hospitals, said Ms. Pham Phuong Thao, chair of the HCMC People's Council.
The city's healthcare achievements are a result of a successful call for social contributions by municipal leaders, National Assembly Vice Chairman Tong Thi Phong told participants. HCMC will be cited as an example by speakers at the next National Assembly session, she added.