Widespread heavy rainfall in Cam Duong Commune in Lao Cai City in the northern province of Lao Cai, triggered severe flash flooding in the area and devastation to many villages, on September 4.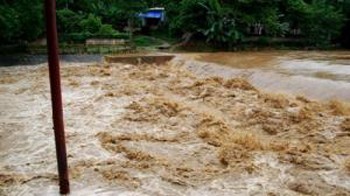 Heavy rains triggered flash flooding in Lao Cai City on September 4 (Photo: Tuoi Tre)
The sudden deluge devastated several villages in the commune like Thac, Nhon, Vach and Da.
According to initial statistics, the flash floods submerged over 30 households living along the riverbanks, which broke with the impact, causing also many fish ponds to overflow.
The floodwaters brought in huge amounts of sand and silt which covered tens of hectares of rice and vegetable crops.
Precipitation in Lao Cai City touched 104mm, while in Bat Xat District it was 52mm, in Bao Thang District it was 56mm, in Sa Pa town 66mm and 68mm in Van Ban District.
This has been the second flashflood to hit Cam Duong Commune since the beginning of the rainy season.
Earlier a tornado had also rocked Muong Khuong District with wind gales of level 8-9 blowing at 62-88 kilometers an hour. The tornado swept across the two communes of Tung Trung Pho and Din Chin, damaging and blowing off roofs of 65 houses.