Prime Minister Nguyen Tan Dung has recently approved building plans for provinces that border Cambodia. The plans aim to develop the area into a nationally important economic region by 2020, and the world by 2030.

The area bordering Cambodia includes ten provinces. Among them, Kon Tum , Gia Lai, Dac Lac and Dac Nong are located in the Central Highlands, the others are to be found in the southeastern region, consisting of Binh Phuoc, Tay Ninh, Long An, Dong Thap, An Giang and Kien Giang.

It is estimated that by the end of 2020, the total population of the region will reach 16.51 million, of which, between ten to 11 million will be of employable age.

According to the plans, by the end of 2020, the region will be built into a key economic center of the whole country, serving as a springboard for the development of agriculture, forestry and hydroelectricity

It will not only become an important gateway for road, river and air traffic in the west and southwest region of Vietnam, but also a major economic hub, where goods, commodities, services and tourism will be traded among Mekong Delta countries and the East Sea region.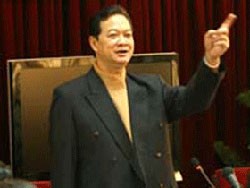 PM Nguyen Tan Dung
By 2030, the region will be developed into a key national and international marine economic center.

Its important position will have a special influence on regions in the Central Highlands, especially those located in the central and south Vietnam and those lying along the coastline of Thailand gulf.

The region will also see the largest nature reserves, as well as the largest center that preserves national cultural values of the whole country and serves as one of the key tourism centers in the ASEAN region.

Subject to the plans, the region will be built in two separate sub-regions.

One is in the west eastern Vietnamese –Cambodian border and the other in the Central Highlands with big urban centers in Buon Me Thuot, Pleiku and Long Xuyen cities.

The plan also specifies the building and development of necessary infrastructure in the sub-regions and provides for investment incentives.