The northwestern province of Dien Bien should capitalise on its advantages to develop tourism, National Assembly Chairwoman Nguyen Thi Kim Ngan told provincial officials on March 13.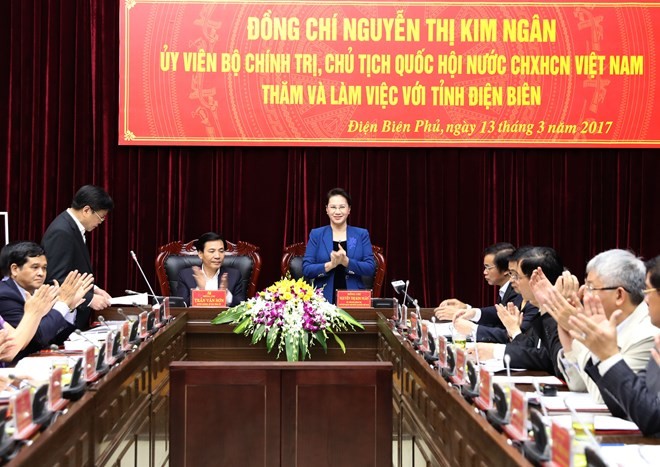 National Assembly Chairwoman Nguyen Thi Kim Ngan has a working session with Dien Bien officials on Mrch 13 (Photo: VNA)
Recognising local socio-economic achievements, the top legislator, who is on a working trip to some northwestern provinces, told Dien Bien to conserve and bring into play the values of the special national relic site of Dien Bien Phu Victory, in which France was defeated in 1954.
The province should expand the planting of ban (Bauhinia variegate) trees, whose flowers considered a symbol of the northwest of Vietnam, so as to improve local landscapes and create a tourism attraction.
The 19 ethnic groups offer a diversity of cultures for tourists to explore, she said.
Chairwoman Ngan also asked Dien Bien to coordinate with other localities and businesses in efforts to attract tourists while calling for investment in infrastructure development to boost the non-smoke industry.
Although the province does not accommodate any hydropower plants, it still needs to protect and make use of watershed forests. Diverse soil and climate conditions are also favourable for it to expand forestry and organic agriculture, including the cultivation of specialty rice varieties, she added.
Reporting on the local situation, Secretary of the provincial Party Committee Tran Van Son said Dien Bien has recorded good progress in agricultural and forestry production. The cultivation of perennial industrial trees like coffee, rubber, and tea has been expanded in tandem with processing and purchasing activities. There are about 5,170ha of rubber, 4,050ha of coffee and 60ha of tea in the province at present.
Provincial authorities have also worked to promote agricultural restructuring and succeeded in attracting some investments in specialty rice farming, processing and distribution, industrial livestock farming, and fruit tree cultivation, he noted