A grand ceremony celebrating the 62nd anniversary of the Dien Bien Phu victory and receiving the first-rate labor medal was held in Dien Bien Phu city in the northwestern province of Dien Bien on May 7 with attendance of State President Tran Dai Quang.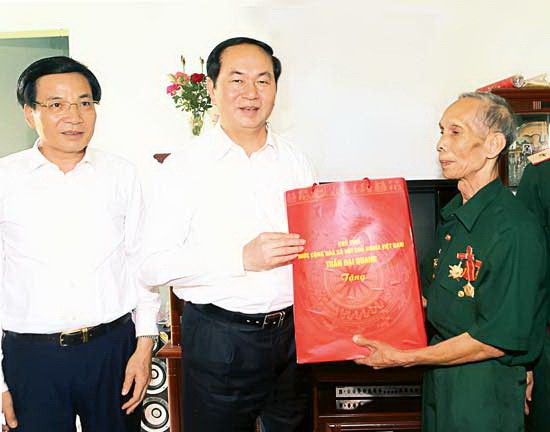 State President Tran Dai Quang offers gifts to veteran Pham Van Ngan who took part in the Dien Bien Phu Campaign (Photo: Sggp)
Vice Secretary of the provincial Party Committee and Chairman of the provincial People's Committee Mua A Son recalled historical milestones of the Dien Bien Phu 56-day campaign which resounded throughout the five continents and was world-shaking.
He expressed deep gratitude to late President Ho Chi Minh and late General Vo Nguyen Giap, Commander-in-Chief General and the Eldest Brother of the Vietnam People's Army, and paid tribute to heroes and martyrs who fought and sacrificed for the Dien Bien Phu Victory.
After 62 years of Dien Bien Phu Victory and over 30 years of the 'Doi Moi' (renewal) procsess, Dien Bien Province has made significant achievements in various fields. The province saw an average of 9.11% economic growth from 2010-2015 and per capita income in 2015 reached 23.6 million VND, up 1.89 times over 2010.
President Tran Dai Quang has asked the Party organizations and authorities of Dien Bien to enhance their leadership and open the direction for a number of key tasks, including developing agricultural production and services, construction, socio-economic infrastructure and promoting culture & new-style rural program.
Earlier, a delegation of Vietnamese leaders led by President Tran Dai Quang offered incense to war heroes resting at the A1 Hill Cemetery in the locality.
Dien Bien province is home to over 550,000 people from 19 ethnic groups, with 38 percent of the Thai ethnicity, 34.8 percent of the H'Mong people and 18.4 percent of the Kinh people. It shares 401 km of borders with Laos and China.
In 1954, the Dien Bien Phu campaign lasted two months and ended successfully on May 7, resulting in the Geneva Accord on restoring peace in Indochina.